Where Butterflies Grow (Paperback)
Before placing an order, please note:
You'll receive a confirmation email once your order is complete and ready for pickup.

If you place a pre-order in the same order as currently available titles, an additional shipping fee will be added to your order.

Women & Children First is not responsible for lost or stolen packages.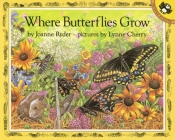 Description
---
In a field of lacy leaves, a small caterpillar hatches, grows, and sheds its skin, becoming a smooth, green creeper. It eats and changes some more, then in a sequence of remarkable close-ups, spins a sliken sling in which to pupate—until it finally bursts forth as a brilliant black swallowtail butterfly. Includes suggestions on how children can grow butterfiles in their own gardens.
About the Author
---
Joanne Ryder has her own ties to Laura Ingalls Wilder. She helped edit West from Home: Letters of Laura Ingalls Wilder, San Francisco, 1915. Already in love with the city, Ingalls's letters introduced Ryder to the 1915 San Francisco World's Fair, providing the perfect backdrop for Winnie and Miss Drake's adventures. In her storied career, Ryder has published more than seventy books and received numerous awards for her nature writing and poetry.

Lynne Cherry is a children's book author and illustrator. Her works include When I'm Sleepy, The Dragon and the Unicorn, and The Shaman's Apprentice: A Tale of the Amazon Rainforest.