The Hat (Board book)
Before placing an order, please note:
You'll receive a confirmation email once your order is complete and ready for pickup.

If you have a membership, please make a note of this in the order comments and we'll apply your discount.

If you place a pre-order in the same order as currently available titles, an additional shipping fee will be added to your order.

Women & Children First is not responsible for lost or stolen packages.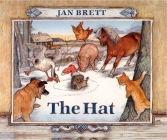 $9.99

We can order this for you!
Description
---
A Publishers Weekly #1 bestseller, Jan Brett's heartwarming story of Hedgie the hedgehog's misadventures in the snow has become a family favorite.

When Lisa's woolen stocking flies off the closeline, Hedgie can't resist poking his nose in. He tries to pull it out, but the stocking is stuck on his prickles. At first the other animals laugh at the sight of him, but when they realize they might like something to keep their heads dry and ears warm, too, even more silliness ensues.

Like its companion The Mitten, The Hat is now available as a wonderful board book to share with young children.

"Brett's signature art introduces animal characters as endearing and expressive as those who congregated in her earlier book's expandable white mitten." —Publishers Weekly

"A clever and appealing picture book. . . . The pictures, story, and subject matter make this a natural for sharing aloud." —School Library Journal
About the Author
---
With over thirty four million books in print, Jan Brett is one of the nation's foremost author illustrators of children's books. Jan lives in a seacoast town in Massachusetts, close to where she grew up. During the summer her family moves to a home in the Berkshire Hills of Massachusetts.
As a child, Jan Brett decided to be an illustrator and spent many hours reading and drawing. She says, "I remember the special quiet of rainy days when I felt that I could enter the pages of my beautiful picture books. Now I try to recreate that feeling of believing that the imaginary place I'm drawing really exists. The detail in my work helps to convince me, and I hope others as well, that such places might be real."
As a student at the Boston Museum School, she spent hours in the Museum of Fine Arts. "It was overwhelming to see the room-size landscapes and towering stone sculptures, and then moments later to refocus on delicately embroidered kimonos and ancient porcelain," she says. "I'm delighted and surprised when fragments of these beautiful images come back to me in my painting."
Travel is also a constant inspiration. Together with her husband, Joe Hearne, who is a member of the Boston Symphony Orchestra, Jan visits many different countries where she researches the architecture and costumes that appear in her work. "From cave paintings to Norwegian sleighs, to Japanese gardens, I study the traditions of the many countries I visit and use them as a starting point for my children's books."
Praise For…
---
"A clever and appealing picture book . . . . Brett's illustrations are done in her trademark style of highly detailed depictions of her characters and a creative use of borders. . . . The pictures, story, and subject matter make this a natural for sharing aloud."—School Library Journal


"In a companion book to Brett's The Mitten (1989), a little girl decides to unpack her winter woolens from their decorated chest and hang them out on a line to air before winter comes. . . . The satisfying story celebrates the cozy hearth, home, and barnyard of picturesque Scandinavian country life, frozen in time. Brett's somber tones of pre-winter are enlivened by the intricate, colorful clothing; her fine, independent heroine is in charge of the story, and the inventive little hedgehog triumphs as well."—Kirkus Reviews