Street Art and Graffiti of Comuna 13: Medellin, Colombia (Hardcover)
COVID-19 Notification
PLEASE READ BEFORE PLACING AN ORDER:
Thank you for your overwhelming support! We are 48 hours behind processing online orders.

As COVID-19 cases surge across the country, we have decided to close our doors for in-store browsing.

During these three weeks, we will offer priority shipping to anywhere in the U.S. as well as curbside pickup in the parking lot behind our store from 11 a.m. to 5 p.m. seven days a week.

Do NOT come to the store until you get a confirmation email that your order is complete and ready for pickup!
OUR ONLINE STORE WILL BE CLOSED ON DECEMBER 25 & 26 TO GIVE OUR STAFF A MUCH-DESERVED BREAK!

Women & Children First is not responsible for lost or stolen packages.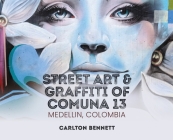 $25.00
Usually Ships in 1-5 Days
Description
---
This coffee table book is about the street art and graffiti of Comuna 13 in Medellin, Colombia. Once one of the most dangerous neighborhood in Medellin, Colombia, Comuna 13 was known for guerrilla and gang activities, including drugs and gun trafficking.
From the early 1980s, Medellin was controlled by Pablo Escobar, the infamous drug lord, but by 1993 after his death, many drug cartels sought control of the city and the violence continued to rise. However in recent years, Comuna 13 has become more known for its powerful graffiti murals and street art performances, which depict the conflict and hardship experienced by the community, the impact of the government intervention and the strength and importance of the community's actions that helped to put an end to the violence in the community.
This street art renaissance started with two main street artists, @YesGraff and @Chota_13, who used the walls of Comuna 13 as their canvas to raise awareness and display the community's difficult past, bringing hope to its people and a recent steady stream of visitors.
This collection of Comuna 13's murals highlights the community's most popular artistry. Within every art piece, there is the artist's interpretation or the view in which the artist intend for the viewers to interpret. With the help of the talented, Elizabeth Ray, each mural is paired with a poetic exposition.