Papercuts: A Party Game for the Rude and Well-Read (A Card Game for Book Lovers) (Game)
Before placing an order, please note:
You'll receive a confirmation email once your order is complete and ready for pickup.

If you have a membership, please make a note of this in the order comments and we'll apply your discount.

If you place a pre-order in the same order as currently available titles, an additional shipping fee will be added to your order.

Women & Children First is not responsible for lost or stolen packages.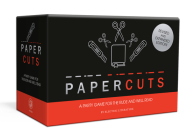 Description
---
Show off your page-turning prowess and bust out your best book-themed jokes with this raucous party game full of literary laughs from the wordsmiths at the indie nonprofit Electric Literature.

Papercuts is what Kurt Vonnegut, James Baldwin, and Virginia Woolf would play if they were alive, locked in a room together, and forced to play a card game. This party game for bibliophiles and pop culture fanatics follows an intuitive and popular game format: the dealer lays down a Question card and each player must fill in the blank with one of the five Answer cards in their hand. What ensues is an endless loop of hilarious literary jokes and gut-busting gameplay.

Sample questions include: 
•  Why does the caged bird sing?
•  Are You There God? It's Me, __________.
•  Last year's Booker Prize-winning novel is told from the perspective of __________.

Players can respond with answers like:
•  Flannery O'Connor's peacocks
•  Atticus Finch before he was racist
• a fifteen-page sex scene

This edition of Electric Literature's game boasts 100 question cards and 200 answer cards in a luxe, portable package. Toss it in a tote or bring it to your next party for countless chapters of enjoyment.
About the Author
---
Electric Literature is an independent nonprofit dedicated to making literature more exciting, relevant, and inclusive. Everything it publishes, including fiction, poetry, essays, criticism, and book coverage, is available to read free at electricliterature.com.