Street Talking: International Graffiti Art (Hardcover)
PLEASE READ BEFORE PLACING AN ORDER:
-Please do not come to the store until you get a confirmation email that your order is complete and ready for pickup!
-Please place orders for pre-order titles separately. If your pre-order is placed with other titles, please note that we will add additional shipping fees.
-Women & Children First is not responsible for lost or stolen packages.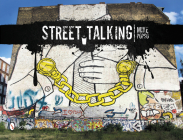 Description
---
Street Talking is a massive accumulation of graffiti and street art photographs taken over the last decade by photographer Mike Popso. Exploring a cross-continental swath of urban areas, Popso captures hard-to-reach spots where there is an explosion of bright color and brighter ideas on canvases ranging from abandoned schools in Detroit to the back alleys of Istanbul, Turkey. From illegal tagging under ground to the commissioned productions above ground, Street Talking documents works by an entirely new generation of writers and artists under the influence of yesterday's masters. An artistic platform for today's global voices in street art, Popso's compilation features works by The MSK Crew and other cutting edge artists working in Detroit, New York, the West Coast, and Europe--a must have for all street art collectors, practitioners, and enthusiasts.
About the Author
---
Mike Popso is a freelance photographer from Detroit, Michigan. For the past ten years he has been traveling the world and taking photographs of many subjects. He lives in San Francisco, California, where he studies photography at The Academy of Art University.