Born to Run: NYC Subway Graffiti on the Ind and Bmt Lines (Hardcover)
COVID-19 Notification
*** Thank you for your overwhelming support! Please note: we are 48 hours behind processing online orders. Please do not come to the store until you get confirmation the order is complete and ready for pickup!
*** As COVID-19 cases surge across the country, we have decided to close our doors for in-store browsing for three weeks beginning on Saturday, November 14. During these three weeks, we will offer priority shipping to anywhere in the U.S. as well as curbside pickup in the parking lot behind our store from 11 a.m. to 5 p.m. seven days a week. Please wait for an email that your order is complete before you come for curbside pickup.***
*** Women & Children First is not responsible for lost or stolen packages.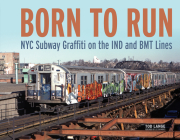 Description
---
Despite playing canvas to a long list of talented writers, the IND (Independent) and BMT (Brooklyn Manhattan Transit) lines have been underrepresented in graffiti history. This is now rectified with a collection of high-quality images from the 1970s and 80s that capture works by heavyweights from the BMT like Lee, Mono, Iz The Wiz, Baby168, OE3, P13, and many others. From Coney Island to Queensboro Plaza and everywhere in between, these nostalgic images capture elevated subway scenes, stations, and subway yards and offer a glimpse through time at Brooklyn and Queens in the height of the NYC subway graffiti era. This truly amazing lineup also features early writers on the IND lines like Pistol, Piper, A'train, and IN, in addition to obscure names and throw-ups from these undocumented corridors. This is an ideal volume of subway art for graffiti artists, fans, historians, and students looking for rare photos on the letter lines.
About the Author
---
Tod Lange grew up in Queens, New York. He lives in Pennsylvania with his family and works in the antique and collectibles market. This is Tod's third book on the New York subway system.