Anatomy of a Tapestry: Techniques, Materials, Care (Spiral)
PLEASE READ BEFORE PLACING AN ORDER:
Thank you for your overwhelming support! We are 48 hours behind processing online orders.

As COVID-19 cases surge across the country, we have decided to close our doors for in-store browsing.

During this time, we will offer priority shipping to anywhere in the U.S. as well as curbside pickup in the parking lot behind our store from 11 a.m. to 5 p.m. seven days a week.

Do NOT come to the store until you get a confirmation email that your order is complete and ready for pickup!
OUR ONLINE STORE WILL BE CLOSED ON DECEMBER 25 & 26 TO GIVE OUR STAFF A MUCH-DESERVED BREAK!

Women & Children First is not responsible for lost or stolen packages.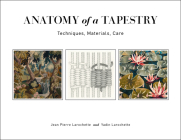 $45.00
Usually Ships in 1-5 Days
Description
---
The history, legacy, and boundless creativity of weavers over the centuries is the base in this helpful guide for new weavers, seasoned tapestry artists, and enthusiasts. Tapestry weaving is an art form that has been around since antiquity, and these insights from renowned artist Jean Pierre Larochette offer 30 traditional techniques built upon weavers' centuries of work. A fourth-generation French Aubusson tapestry weaver, he gives us a glimpse into the multiple combinations, variations, and applications of techniques that form the art of the weaver. Each technique is exemplified by diagrams, woven models, and examples of possible ways of applying it. Expert Yadin Larochette shares theories and approaches to conservation, including new scientific research to help in the much-needed task of preserving these treasures of human creativity for centuries to come. Along with distilling traditional information on the art, this book's precise written instructions and clear visuals--together with its handy lay-flat binding--assist you in both creating and preserving your tapestries.
About the Author
---
Jean Pierre Larochette (Berkeley, CA), a fourth-generation French Aubusson tapestry weaver, has exhibited and taught internationally for decades. Conservator Yadin Larochette (Los Angeles, CA), his daughter, earned a master's degree from the Winterthur/University of Delaware Program in Art Conservation.