Origami Paper 100 Sheets Tie-Dye Patterns 6" (15 CM): Tuttle Origami Paper: High-Quality Double-Sided Origami Sheets Printed with 8 Different Designs (Loose Leaf)
PLEASE READ BEFORE PLACING AN ORDER:
Thank you for your overwhelming support! We are 48 hours behind processing online orders.

As COVID-19 cases surge across the country, we have decided to close our doors for in-store browsing.

During this time, we will offer priority shipping to anywhere in the U.S. as well as curbside pickup in the parking lot behind our store from 11 a.m. to 5 p.m. seven days a week.

Do NOT come to the store until you get a confirmation email that your order is complete and ready for pickup!
OUR ONLINE STORE WILL BE CLOSED ON DECEMBER 25 & 26 TO GIVE OUR STAFF A MUCH-DESERVED BREAK!

Women & Children First is not responsible for lost or stolen packages.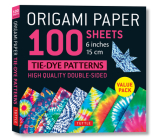 $5.99
Usually Ships in 1-5 Days
Description
---
This origami paper pack contains 100 high-quality origami papers printed with colorful tie-dye designs and patterns.
These exciting paper patterns were developed to enhance the creative work of origami artists and paper crafters. The pack contains 8 different designs unique to this pack, and all of the papers are printed with coordinating colors on the reverse to provide aesthetically pleasing origami models.
This origami kit includes:
100 sheets of high-quality origami paper
8 unique designs
Vibrant and bright colors
Double-sided color
6 x 6 inch (15cm) squares
Instructions for 8 easy origami projects
About the Author
---
The Tuttle Publishing Company was established in 1948 in Rutland, Vermont and Tokyo, Japan and is today regarded as a premier publisher and seller of books rooted in Asian culture, language and history. Since its founding in 1948, Tuttle has published more than 6,000 books and today maintains an active backlist of around 2,000 titles. Today, Tuttle publishes 150 new titles each year focusing on Asian languages, Asian food & cooking, gardening & flower arranging, crafts & origami, children's books, martial arts, Asian literature, games & graphic novels, Asian history & culture, health & fitness, self-help & Eastern religion, Asian art & collectibles, interior design & architecture, travel guides, maps, and business books. Tuttle products are available in printed formats as well as popular eBook formats.