Colorado: A Historical Atlas (Paperback)
Before placing an order, please note:
You'll receive a confirmation email once your order is complete and ready for pickup.

If you place a pre-order in the same order as currently available titles, an additional shipping fee will be added to your order.

Women & Children First is not responsible for lost or stolen packages.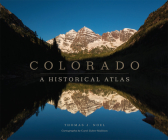 Description
---
This is a thoroughly revised edition of the Historical Atlas of Colorado, which was coauthored by Tom Noel and published in 1994. Chock-full of the best and latest information on Colorado, this new edition features thirty new chapters, updated text, more than 100 color maps and 100 color photos, and a best-of listing of Colorado authors and books, as well as a guide to hundreds of tourist attractions. Colorado received its name (Spanish for "red") after much debate and many possibilities, including Idaho (an "Indian" name meaning "gem of the mountains" later discovered to be a fabrication) and Yampa (Ute for "bear"). Noel includes other little-known but significant facts about the state, from its status as first state in the Union to elect women to its legislature, to its controversial "highest state" designation, elevated by the 2013 legalization of recreational cannabis. Noel and cartographer Carol Zuber-Mallison map and describe Colorado's spectacular geography and its fascinating past. The book's eight parts survey natural Colorado, from rivers and mountains to dinosaurs and mammals; history, from prehistoric peoples to twenty-first-century Color-oddities; mining and manufacturing, from the gold rush to alternative energy sources; agriculture, including wineries and brewpubs; transportation, from stagecoach lines to light rail; modern Colorado, from the New Deal to the present (including politics, history, and information on lynchings, executions, and prisons); recreation, covering not only hiking and skiing but also literary locales and Colorado in the movies; and tourism, encompassing historic landmarks, museums, and even cemeteries. In short, this book has information--and surprises--that anyone interested in Colorado will relish.