Bunnybear (Hardcover)
PLEASE READ BEFORE PLACING AN ORDER:
-Please do not come to the store until you get a confirmation email that your order is complete and ready for pickup!
-Please place orders for pre-order titles separately. If your pre-order is placed with other titles, please note that we will add additional shipping fees.
-Women & Children First is not responsible for lost or stolen packages.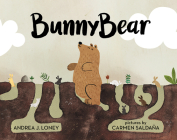 Description
---

Although Bunnybear was born a bear, he feels more like a bunny. He prefers bouncing in the thicket to tramping in the forest, and in his heart he's fluffy and tiny, like a rabbit, instead of burly and loud, like a bear. The other bears don't understand him, and neither do the bunnies. Will Bunnybear ever find a friend who likes him just the way he is?

About the Author
---
Andrea J. Loney is a screenwriter with an MFA in dramatic writing from New York University. She won the 2014 Lee and Low New Voices Award for Take a Picture of Me, James Van Der Zee. Andrea lives in California. Carmen Saldaña always wanted to work in a candy store and have a dog. Now that she is older, she has two dogs and a cat and is an illustrator—a job she likes second only to candy. Carmen lives on the northern coast of Spain.
Praise For…
---
"An engaging read . . . . Bunnybear will be sure to endear himself to children, and teachers and parents will appreciate the sensitivity with which the book expresses the discord between internal and external identity to young readers." —School Library Journal
"While there are many stories of mixed-up animals, this offers an assuring message of individuality: 'You just look one way on the outside and feel another way on the inside. That's okay,' Bunnybear tells Grizzlybun." —Booklist
"The tone is gentle and hopeful. This is a good friendship story to have for young kids who may have identity issues or those who just need a little boost to stand up for who they are." —School Library Connection