Southern Exposure: The Overlooked Architecture of Chicago's South Side (Second to None: Chicago Stories) (Paperback)
Before placing an order, please note:
We will be closed Thursday, November 24 & Friday, November 25. If you place an order during that time it will not be processed until Saturday, November 26.

You'll receive a confirmation email once your order is complete and ready for pickup.

If you place a pre-order in the same order as currently available titles, an additional shipping fee will be added to your order.

Women & Children First is not responsible for lost or stolen packages.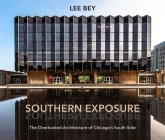 Description
---
Southern Exposure: The Overlooked Architecture of Chicago's South Side is the first book devoted to the South Side's rich and unfairly ignored architectural heritage. With lively, insightful text and gallery-quality color photographs by noted Chicago architecture expert Lee Bey, Southern Exposure documents the remarkable and largely unsung architecture of the South Side. The book features an array of landmarks—from a Space Age dry cleaner to a nineteenth-century lagoon that meanders down the middle of a working-class neighborhood street—that are largely absent from arts discourse, in no small part because they sit in a predominantly African American and Latino section of town better known as a place of disinvestment, abandonment, and violence. 

Inspired by Bey's 2017 Chicago Architecture Biennial exhibition, Southern Exposure visits sixty sites, including lesser-known but important work by luminaries such as Jeanne Gang, Frank Lloyd Wright, and Eero Saarinen, as well as buildings by pioneering black architects such as Walter T. Bailey, John Moutoussamy, and Roger Margerum. 

Pushing against the popular  narrative that depicts Chicago's South Side as an architectural wasteland, Bey shows beautiful and intact buildings and neighborhoods  that reflect the value—and potential—of the area. Southern Exposure offers much to delight architecture aficionados and writers, native Chicagoans and guests to the city alike.
About the Author
---
LEE BEY is a photographer, writer, lecturer, and consultant who documents and interprets the built environment—and the often complex political, social, and racial forces that shape spaces and places. His writing on architecture
and urban design has been featured in Architect, Chicago magazine, Architectural Record, and many news outlets. His photography has appeared in Chicago Architect, Old-House Journal, CITE, and in international design publications, including Bauwelt and Modulør. A former Chicago Sun-Times architecture critic, Bey is also a senior lecturer at the School of the Art Institute of Chicago and served as deputy chief of staff for urban planning under former Chicago mayor Richard M. Daley.

AMANDA WILLIAMS is a visual artist who trained as an architect. Her works have been exhibited widely and are included in the permanent collections of the Art Institute of Chicago and the Museum of Modern Art in New York. She lives and works on the South Side of Chicago.
Praise For…
---
"Southern Exposure is a 35mm love story. Just like relationships, the buildings that Bey photographs reflect our affection and our neglect, and remind us of why we are so devoted to Chicago's South Side. Through these truly awe-some images, we are inspired to stop, behold, and not take these treasures for granted." —Mary Pattillo, author of Black on the Block: The Politics of Race and Class in the City
 

"I can't decide whether I like Lee Bey's photography best, or the open-faced clarity of his writing, but either way, this is a book Chicago needs—an overdue public embrace of the South Side for those who know it, and an introduction for those who don't. Using the area's overlooked architecture as a way into its history and its people, he reveals treasures for the new Chicago." —Thomas Dyja, author of The Third Coast: When Chicago Built the American Dream and Walter White: The Dilemma of Black Identity in America
 
"Southern Exposure lifts the curtain on that vast architecturally ignored South Side. In his eloquent introduction, Lee Bey speaks bluntly about how prejudice and poverty have joined to virtually keep this section of Chicago out of its history. Most impressive are Bey's stunning architectural photographs depicting treasures such as the 1941 art moderne Chicago Vocational High School, attributed to John C. Christensen; the Georgian revival former Wabash Avenue YMCA (birthplace of the Harlem Globe Trotters!), designed by Robert C. Berlin in 1911; and John Wellborn Root's powerful Romanesque St. Gabriel Church, the cathedral of Canaryville. Looking at these precious survivors of South Side history, one is reminded again of how immensely important preservation is to understanding the cultural legacy of a particular community." —David Garrard Lowe, author of Lost Chicago

". . . Like the best journalism, this book is a call to action. Bey isn't mourning the lost past but clanging a fire bell, demanding a better future." —Neil Steinberg, Chicago Sun-Times

"In Southern Exposure, Bey celebrates the strong, vibrant and beautiful architectural design to be found throughout that part of Chicago that exists south of Cermak Road. This is an area where he grew up and has spent much of his life—an area he clearly loves." —Patrick T. Reardon, Third Coast Review

"Bey [gives] the book a generous, wide-ranging perspective. It's a wise approach: While the many churches, homes, apartment buildings, and large commercial structures that predominate deserve obvious inclusion, it's the more unusual sights that stand out most. One particular highlight is Chatham's Pride Cleaners, featuring a sharply pitched roof and a playful Pop Art sign, 'PRIDE' spelled out on individual, surfboard-shaped neon signs, which, when lit up, 'would twinkle and flash with the exuberance of a Las Vegas marquee touting a Sinatra engagement at the Sands.' The building is emblematic of Bey's often-personalized approach to the history he documents . . . It was a personal favorite of Bey's father, whose impact on his son hangs over the book and informs Bey's passion for architecture; for one 1960s teenager, the roof proved useful as an airborne ramp to bike off of, 'the thrill ride of going airborne off the roof [lasting] for months.' These details bring buildings like Pride Cleaners to life, making its continued lack of inclusion in the city's landmark process even more damning." —Annie Howard, Metropolis Magazine

"With an auteur's lens and a passionate pen, photographer Lee Bey salutes the architecture of his native South Side." —Stephen Ostrowski, Michigan Avenue

"Southern Exposure succeeds at what so many books attempt: it changes the way you see your world. After reading Bey's book and seeing his photographs that fill its pages, we were driving east along North Avenue toward the city on the equally neglected West Side. I found myself noticing an interesting cornice here, some exotic Middle Eastern detailing there, an ineresting doorway, architectural features I'd driven by hundreds of times but that never registered in my consciousness. After you read Southern Exposure, you may never see your city in quite the same way." —David Hammond, Newcity

"Southern Exposure refuses erasure and documents the way people have created communities in the midst of systemic enclosure. Ultimately, Bey's book is an archival insistence on acknowledgment, asserting—we are here, we've been here, will you see us?" —Kortney Morrow, Cleveland Review of Books