How Grandpa Duffer Fluffer Broke the Grabbit Rabbit Habit (Hardcover)
Before placing an order, please note:
You'll receive a confirmation email once your order is complete and ready for pickup.

If you place a pre-order in the same order as currently available titles, an additional shipping fee will be added to your order.

Women & Children First is not responsible for lost or stolen packages.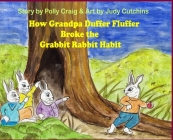 Unavailable from our sources
Description
---
When Puffer Fluffer was born he was named after his fat old uncle Puffer Wuffer Fluffer.Little Puffer Fluffer has a mama named Zuffer Fluffer and a papa named Gruffer Fluffer. He also has many brothers and sisters and cousins who play together at the edge of the woods.Puffer Fluffer was a good little rabbit until he grew big enough to play outside with all the other rabbits.
Then a very strange thing happened.