Don McCullin - Journeys Across Roman Asia Minor (Hardcover)
Before placing an order, please note:
You'll receive a confirmation email once your order is complete and ready for pickup.

If you have a membership, please make a note of this in the order comments and we'll apply your discount.

If you place a pre-order in the same order as currently available titles, an additional shipping fee will be added to your order.

Women & Children First is not responsible for lost or stolen packages.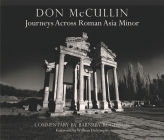 Description
---
Join Don McCullin as he reveals a world full of wonder from the pavements once trodden by Aristotle and Alexander the Great to the poignant ruins of the once powerful Roman Empire.

"Photography for me is not looking, it's feeling. If you can't feel what you're looking at, then you're never going to get others to feel anything when they look at your pictures." - Don McCullin

Sir Donald McCullin's Journeys Across Roman Asia Minor is driven by an eye for beauty and an ear for history. On his 5,000-mile travels in western Turkey he works his ineffable magic, moving from a sanctuary known to Homer to the broken face of an exhausted Roman emperor, before turning his eye on the sensuous torso of a goddess.

While most of us were sheltering from Covid, Don explored the mountains, valleys and coast of western Turkey, hunting out the most poignant and powerful ruins of the Roman Empire. He has created a meditation on landscape, the effects of light on ancient stone, the way clouds animate the past, but this book is also inescapably about conquest, imperium and power.

Journeys Across Roman Asia Minor reveals a world full of wonder. We see pavements once trodden by Aristotle and Alexander the Great, Julius Caesar, St Paul and the Emperor Hadrian. Through his lens we discover ancient theaters cascading down the slopes of mountains, 2,000-year-old bridges used by hill farmers to this day, and spring water flowing into fountains still dominated by statues of the gods.

Journeys Across Roman Asia Minor is consciously focused on just one specific period within Turkey's dazzlingly rich parade of historical cultures (that stretch back over 12,000 years), but by choosing the 500 years of the Roman Empire, we can also celebrate a time that we can all share in.

Journeys Across Roman Asia Minor is a companion to an earlier volume, Southern Frontiers, where Don had observed the landscapes of the Roman Empire in North Africa and Syria. Journeys Across Roman Asia Minor was created through a series of journeys across western Turkey commissioned by Cornucopia Magazine. His companion during all these journeys was the writer Barnaby Rogerson, who was not only able to watch the master at work but was able to listen to the astonishing tales from Don's adventurous life, as they traveled along Roman roads. So we get the context and the historical story behind every chosen photograph.

Don McCullin has won himself the reputation of being one of the greatest living photographers of conflict, but this has always co-existed with his other role as a great traveler. He also takes pride in the craft, so he delights in developing all his own film. The far frontiers of the Roman Empire are a lifelong obsession that had been accidentally been kick-started by an incident in his early career when he worked alongside Bruce Chatwin.