Wiley CIA Exam Review Focus Notes 2021, Part 3: Business Knowledge for Internal Auditing (Paperback)
PLEASE READ BEFORE PLACING AN ORDER:
-Please do not come to the store until you get a confirmation email that your order is complete and ready for pickup!
-Please place orders for pre-order titles separately. If your pre-order is placed with other titles, please note that we will add additional shipping fees.
-Women & Children First is not responsible for lost or stolen packages.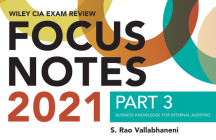 Description
---
Get effective and efficient instruction on all CIA business knowledge exam competencies in 2021
Wiley CIA Exam Review 2021 Focus Notes, Part 3 Business Knowledge for Internal Auditing provides readers with all current Institute of Internal Auditors (IIA) content requirements. Filled with visual aids like tree diagrams, line drawings, memory devices, tables, charts, and graphic text boxes, the material is accessibly written from a student's perspective and designed to aid in recall and retention.
Wiley CIA Exam Review 2021 Focus Notes, Part 3 Business Knowledge for Internal Auditing contains all the business knowledge elements Certified Internal Auditor test-takers will need to succeed on the business knowledge section of this challenging exam.
About the Author
---
S. RAO VALLABHANENI is an educator, author, publisher, consultant, and practitioner in business with more than thirty years of management and teaching experience in auditing, accounting, manufacturing, and IT consulting in both public and private sectors. He is the author of more than sixty trade books, study guides, review guides, monographs, audit guides, and articles in auditing and IT. He holds twenty-four professional certifications in business management in Accounting, Auditing, Finance, Information Technology, Manufacturing, Quality, and Human Resource fields.