The Nine: The True Story of a Band of Women Who Survived the Worst of Nazi Germany (CD-Audio)
Before placing an order, please note:
You'll receive a confirmation email once your order is complete and ready for pickup.

If you place a pre-order in the same order as currently available titles, an additional shipping fee will be added to your order.

Women & Children First is not responsible for lost or stolen packages.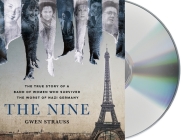 Description
---
The Nine follows the true story of the author's great aunt Hélène Podliasky, who led a band of nine female resistance fighters as they escaped a German forced labor camp and made a ten-day journey across the front lines of World War II from Germany back to Paris.

This program includes a bonus conversation with the author, as well as an archival recording of Martine Podliasky singing the Champs de Marais at her mother, Hélène Podliasky's, funeral.

The nine women were all under thirty when they joined the resistance. They smuggled arms through Europe, harbored parachuting agents, coordinated communications between regional sectors, trekked escape routes to Spain and hid Jewish children in scattered apartments. They were arrested by French police, interrogated and tortured by the Gestapo. They were subjected to a series of French prisons and deported to Germany.

The group formed along the way, meeting at different points, in prison, in transit, and at Ravensbrück. By the time they were enslaved at the labor camp in Leipzig, they were a close-knit group of friends. During the final days of the war, forced onto a death march, the nine chose their moment and made a daring escape.

Drawing on incredible research, this powerful, heart-stopping narrative is a moving tribute to the power of humanity and friendship in the darkest of times.

A Macmillan Audio production from St. Martin's Press

"A compelling, beautifully written story of resilience, friendship and survival. The story of Women's resistance during World War II needs to be told and The Nine accomplishes this in spades."—Heather Morris, New York Times bestselling author of Cilka's Journey

"This haunting account provides yet more evidence not only of the power of female friendship but that the often unrecorded courage and resilience of ordinary women must be honored and celebrated. It's a most inspiring read...Utterly gripping." —Anne Sebba, author of Les Parisiennes

"The Nine is poignant, powerful, and shattering, distilling the horror of the Holocaust through the lens of nine unforgettable women...Gwen Strauss melds a poet's pen and a decade of research into a tale of friendship, courage, and indomitable will." —Kate Quinn, New York Times bestselling author
About the Author
---
GWEN STRAUSS' poems, short stories and essays have appeared in numerous journals including The New Republic, London Sunday Times, New England Review, and Kenyon Review and she has published a collection of poetry, Trail of Stones. She was born and spent her early years in Haiti. Strauss lives in Southern France, where she is the Director of the artist's residency program at the Dora Maar House.