Shark (Hardcover)
Before placing an order, please note:
You'll receive a confirmation email once your order is complete and ready for pickup.

If you place a pre-order in the same order as currently available titles, an additional shipping fee will be added to your order.

Women & Children First is not responsible for lost or stolen packages.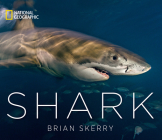 About the Author
---
BRIAN SKERRY is a photojournalist specializing in marine wildlife and underwater environments. Since 1998 he has been a contract photographer for National Geographic magazine covering a wide range of subjects and stories. In 2014 he was named a National Geographic Photography Fellow. In 2015 Skerry was named a Nikon Ambassador, and in 2017 he received the National Geographic Photographer's Photographer Award.
Praise For…
---
"Full of stunning underwater photography, fascinating facts and shark-reverant prose."—Los Angeles Times

"Brian Skerry has devoted much of his career to capturing, in his words, 'intimate portraits' of sharks. In his new book, Shark, you can come along for the ride to the shallow waters of Cape Cod, the shores of New Zealand's North Island, and the mangroves of the Bahamas. This book not only lets you see these ancient predators in their native habitat, it provides the kinds of facts and context that satisfies the curiosity of novices and shark junkies alike. Driven by a sense of urgency that these species are under threat, Skerry has assembled a set of stunning images that show exactly what's now at stake."—Juliet Eilperin, Washington Post staff writer and author of Demon Fish: Travels Through the Hidden World of Sharks

"Powerful images bring to life the reality of these ocean predators and the plights they face for survival…fascinating, hair-raising and inspiring…The book reminds readers that saving sharks isn't simply about doing the right thing, it's also about doing something critical to the overall health of the sea" –Mother Nature Network