This Is How It Always Is: A Novel (CD-Audio)
Before placing an order, please note:
You'll receive a confirmation email once your order is complete and ready for pickup.

If you have a membership, please make a note of this in the order comments and we'll apply your discount.

If you place a pre-order in the same order as currently available titles, an additional shipping fee will be added to your order.

Women & Children First is not responsible for lost or stolen packages.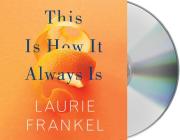 Description
---
The Reese Witherspoon x Hello Sunshine Book Club Pick

*Named one of the top 10 books of 2017 by People Magazine*

"It made me laugh, it made me cry, it made me think." —Liane Moriarty, #1 New York Times bestselling author of Big Little Lies

This is how a family keeps a secret…and how that secret ends up keeping them.

This is how a family lives happily ever after…until happily ever after becomes complicated.

This is how children change…and then change the world.

This is Claude. He's five years old, the youngest of five brothers, and loves peanut butter sandwiches. He also loves wearing a dress, and dreams of being a princess.

When he grows up, Claude says, he wants to be a girl.

Rosie and Penn want Claude to be whoever Claude wants to be. They're just not sure they're ready to share that with the world. Soon the entire family is keeping Claude's secret. Until one day it explodes.

Laurie Frankel's This Is How It Always Is is a novel about revelations, transformations, fairy tales, and family. And it's about the ways this is how it always is: Change is always hard and miraculous and hard again, parenting is always a leap into the unknown with crossed fingers and full hearts, children grow but not always according to plan. And families with secrets don't get to keep them forever.

"The audiobook will undoubtedly steal hearts" - AudioFile
About the Author
---
Laurie Frankel is the New York Times bestselling, award-winning author of novels such as The Atlas of Love, Goodbye for Now, and the Reese's Book Club x Hello Sunshine Book Pick This Is How It Always Is. Frankel lives in Seattle with her husband, daughter, and border collie. She makes good soup.
Praise For…
---
"...[T]ender, funny, heartbreaking, and all-around wonderful...the audiobook will undoubtedly steal hearts." -AudioFile Magazine

"It's early days, but thisbig-hearted novel about a family with a transgender child is in the lead forthe most sensitively and sincerely told story of 2017…Frankel's portrayal ofeven the most openhearted parents' doubts and fears around a child's genderidentity elevates this novel."
—People, "Book of the Week"

"Brave, complicated, occasionally horrifying and frequently very funny…Frankel is a first-rate storyteller."
—Seattle Times

"Frankel has tackled thiscontroversial topic in a warm, funny and honest way and one that willundoubtedly spark thought and conversation."
—The Fort Worth Star-Telegram

"This Is How It Always Is isn't only a novel about the challenges of life with an atypical child. It's a story about the challenges of parenting and love, period...This beautiful story is deeply personal, a heart-rending glimpse of an author writing her way to understanding."
—BookPage

"Sly and charming…Comes atthe perfect time…This Is How It Always Isexplores the travails of a modern family, where challenges about a child'sgender are the same as any other struggles of growing up."
—Shelf Awareness

"A bold, honest, heartbreaking story about the choices parents make, and how life goes on, but not always according to plan. This must-read novel… is the perfect pick for book clubs."
—PopSugar

"One of the most timely and big-hearted family stories I have read in a long time…This is a beautiful novel about the unexpected curve balls of parent and sibling relationships, and the limitless boundaries of family love."
—Bustle

"This wise and often funny novel is a compassionate lesson in discovering and welcoming what makes each of us unique."
—Redbook

"Illuminatingly nuanced andheartfelt, This Is How It Always Isis the story of how a family evolves—and grows—together."
—Refinery29

"Sharp and surprising. This is a wonderfully contradictory story—heartwarming and generous, yet written with a wry sensibility."
—Publishers Weekly ("Pick of the Week," starred review)

"Well-plotted, well-researched, and unflaggingly interesting...As thought-provoking a domestic novel as we have seen this year."
—Kirkus (starred review)

"I was lucky enough to receive an advance reading copy of this very special book about a family with a secret. It made me laugh, it made me cry, it made me think. Preorder your copy now."
—Liane Moriarty, #1 New York Times bestselling author of Truly Madly Guilty

"Laurie Frankel writes with more heart than anyone I can think of...With emotional acuity, admirable bravery, utter compassion, and complete understanding, she's created a family attempting to forge a path through one of life's most mystifying challenges: how to define what it is that makes your child who he or she is: unique, beloved, and whole. This is a novel everyone should read. It's brilliant. It's bold. And it's time."
—Elizabeth George, #1 New York Times bestselling author of A Banquet of Consequences

"In This is How It Always Is, Laurie Frankel spins a beguiling tale of a sprawling, loving, ever-changing, unconventional, and yet completely typical modern family as they make their way though a world with no easy answers and no magic solutions. How does Frankel pull off such a story? With great humor and candor. With a powerful narrative voice, and a forthrightness so compelling, we are drawn into the family circle to laugh and cry with them, and to ponder issues great and small. An intimate, wonderfully moving novel that is especially relevant in today's world."
—Garth Stein, New York Times bestselling author of A Sudden Light and The Art of Racing in the Rain

"This is a perfect book club book, a book that should be read in schools, and one of my favorite reads of the year. A challenging subject handled with honesty, grace, humor, dignity, and most of all, love."
—Jamie Ford, New York Times bestselling author of Hotel on the Corner of Bitter and Sweet

"A lively and fascinating story of a thoroughly modern family and the giant, multifaceted love that binds them. This Is How It Always Is sparkles with wit and wisdom."
—Maria Semple, New York Times bestselling author of Where'd You Go, Bernadette

"Laurie Frankel has written one of those very rare, special novels that examines the way we live—in our homes, in our families, in our bodies—with an astonishing balance of humor, complexity, and above all, kindness. This Is How It Always Is teaches us to look beyond the traditional binary oppositions of boy vs. girl, right vs. wrong, real vs. make-believe, and to find courage and beauty in the in-between."
—Ruth Ozeki, New York Times bestselling author of A Tale for the Time Being