The Schmuck in My Office: How to Deal Effectively with Difficult People at Work (Abridged / CD-Audio)
Before placing an order, please note:
You'll receive a confirmation email once your order is complete and ready for pickup.

If you place a pre-order in the same order as currently available titles, an additional shipping fee will be added to your order.

Women & Children First is not responsible for lost or stolen packages.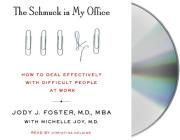 Description
---
"This is a timely must-read for managers and anyone who has ever had to deal with a difficult coworker; it addresses a ubiquitous problem in a proactive, positive manner that should get the desired results." - Publishers Weekly

Everyone has a "schmuck" in their office---a difficult, disruptive person who upsets the workplace, confuses coworkers, and causes concern. It's hard to understand why schmucks act the way they do, but one thing is certain---they seem to come in all shapes and sizes. . . .

- Narcissus---the condescending attention-seeker who carelessly steps on everyone's toes
- The Flytrap---the bringer of chaos whose emotional instability causes an office maelstrom
- The Bean Counter---the orderly perfectionist who never gives up control, even when it's full-steam-ahead to disaster
- The Robot---the unreadable stone wall who just can't connect

Sound like anyone you know? These are just a few of the more prominent types of difficult people at work. In The Schmuck in My Office, Dr. Jody Foster explains the entire spectrum of people we may think of as schmucks, how they can decrease productivity, destroy teams, and generally make everyone else unhappy. Along with nailing down the various types, she looks at personality traits and explains how dysfunctional interactions among coworkers can lead to workplace fiascos. She helps readers understand schmucks as people, figure out how to work with them, and ultimately solve workplace problems. She also makes readers consider the most difficult thing of all: despite where your finger may be pointing, sometimes you are the "schmuck"! Let Dr. Foster teach you how to make your workplace a happier and more productive one.
About the Author
---
JODY FOSTER, MD, MBA, Clinical Professor of Psychiatry in the Perelman School of Medicine at the University of Pennsylvania, Vice Chair for Clinical Operations in the Department of Psychiatry at the University of Pennsylvania Health System and Chair of the Department of Psychiatry at Pennsylvania Hospital. She attained her MBA, with a concentration in finance, from the Wharton School.

Christina Delaine is a SOVAS Voice Arts Award and multiple AudioFile Earphones Award-winning narrator who has recorded over 100 audiobooks. She is also an Audie Award nominee. An accomplished stage and voice actor, Delaine has appeared on stages across the country and has voiced scores of commercials and video games.

MICHELLE JOY, MD Michelle Joy received an ScB in Cognitive Neuroscience from Brown University in 2007, an MD from Yale School of Medicine in 2012, and completed her Psychiatry Residency at the University of Pennsylvania in 2016. She provides clinical care and works in the intersections of mental health, narrative medicine, philosophy, and ethics with particular interests in community and forensic psychiatry