The Art of Wreck-It Ralph (Disney x Chronicle Books) (Hardcover)
Before placing an order, please note:
You'll receive a confirmation email once your order is complete and ready for pickup.

If you place a pre-order in the same order as currently available titles, an additional shipping fee will be added to your order.

Women & Children First is not responsible for lost or stolen packages.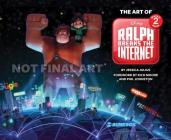 Description
---
In Wreck-It Ralph, Disney's expert team of concept, visual development and story artists explore the hidden world of video games from classic 8-bit arcade games to the most modern and inventive offerings of the digital age. At the center of this hilarious and wildly original video-game-hopping adventure is Wreck-It Ralph, an arcade game bad guy who breaks all the rules when he sets off on a mission to prove he can be good. The Art of Wreck-It Ralph captures the fresh artistic vision of the film and the aesthetic journey of the filmmakers through interviews with the film's many artists, including a foreword by director Rich Moore and a preface by John Lasseter. Illustrated with character sketches, storyboards, visual development paintings, colorscripts, and more, this behind-the-scenes look at Disney's latest 3-D animated epic is a treat for video game and animation lovers alike.
About the Author
---
Maggie Malone is director of development at Walt Disney Animation Studios, where she has worked on films including Tangled, Tinker Bell, and The Princess and the Frog.

Jennifer Lee worked in book publishing for eight years before becoming a filmmaker. She joined the Walt Disney Animation Studios as a screenwriter in the Spring of 2011, and was a writer on Wreck-It Ralph.

Rich Moore is the director of Wreck-It Ralph. He is a multiple Emmy® Award–winning director on TV's The Simpsons and Futurama.

John Lasseter is a two-time Academy Award®–winning director, chief creative officer at Walt Disney and Pixar Animation Studios, and principal creative officer at Walt Disney Imagineering.
Praise For…
---
" If you like the movie - and that is almost guaranteed - you will have to have this book."
--Animation World Network

"Filled with the usual copious amounts of development and production artwork, interviews with the creators, and more, it's the definitive visual exploration of Disney's latest CG animated offering."
A Site Called Fred

"Usually I recommend these "Art of" books because - let's face it - even if the movie is no-good, the pre-vis and character designs are usually fantastic. Wreck-It Ralph is not only a great little film, but the artwork is especially fun. Director Rich Moore assembled a hand-picked crew of cartoonists to inspire the look of the film and they did not fail. No wonder the stuff on the screen looks so good - the preliminary art pictured here shows he had a lot of quality to choose from. Mike Gabriel, Jin Kim, Bill Schwab, Lorelay Bove, Glen Keane, and Minkyu Lee are just a few of the artists supplying the eye candy here, providing the appropriate "sugar rush" you require. This is a good one."
-CartoonBrew.com

"Movie devotees as well as readers with an interest in visual design and animation will enjoy perusing the profusely illustrated pages of Jennifer Lee and Maggie Malone's The Art of Wreck-It Ralph (Chronicle, 2012; Gr 5 Up). Stating that the movie is a bit of a departure for Disney Animation, the authors point to the involvement of Moore, who brought with him "an edgy animation aesthetic and a bold, risky sense of humor" along with a commitment to creating a film with a modern sensibility. Well-written chapters delve into each of the very different video-game worlds, describing the design process, settings, and character development (at various times, Ralph was envisioned as a troll, caveman, Sasquatch, and gorilla, as shown in the concept artwork).

Other sections introduce "Game Central" (a train-station-like hub through which the characters travel from one game console to another), scenes set in the human world of the arcade, and characters that were cut before production. Commentary from the creative staff is woven into the narrative, along with pull-out quotes, providing an interesting look at how the film's look and storyline evolved side by side. The handsome pages are filled with concept art, character sketches, story boards, and models (including an amazing built-from-candy rendition of the Sugar Rush town square)."
-School Library Journal "Extra Helping"

"The Art of Wreck-It Ralph takes you through every iteration of the wreckage inducing lug and his party. You'll find awesome stuff like the fact that early Sargeant Calhoun designs could have easily been used to model Fem Shep, find out the backstory of the cut character of General Locknload and discover lost levels that didn't make it into the final film based on Rock Band, Dance Dance Revolution and even a GTA-inspired level called EZ Livin 2. After reading this book you'll understand how rich of a world Ralph actually lives in and how great the rumored sequel Super Wreck-It Ralph could be."
--Nerdist