A to Zåäö: Playing with History at the American Swedish Institute (Hardcover)
PLEASE READ BEFORE PLACING AN ORDER:
Thank you for your overwhelming support! We are 48 hours behind processing online orders.

As COVID-19 cases surge across the country, we have decided to close our doors for in-store browsing.

During this time, we will offer priority shipping to anywhere in the U.S. as well as curbside pickup in the parking lot behind our store from 11 a.m. to 5 p.m. seven days a week.

Do NOT come to the store until you get a confirmation email that your order is complete and ready for pickup!
OUR ONLINE STORE WILL BE CLOSED ON DECEMBER 25 & 26 TO GIVE OUR STAFF A MUCH-DESERVED BREAK!

Women & Children First is not responsible for lost or stolen packages.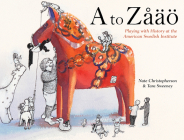 Description
---
A playful picture-book tour of the Swedish alphabet, in which curious characters explore the American Swedish Institute

A is for "Akta dig! Look out!" And when you do, you'll see the nyckelharpa, or keyed fiddle, that Axel's father made—which followed Axel from Sweden to America. You'll also find Axel, a snappy dresser, with his umbrella and bowler hat. He's one of the inquisitive characters who will accompany you on these pages, guiding you through the twenty-nine letters of the Swedish alphabet. Each letter does something exciting. C is "Cirkulera! Go round and round!" And for D, "Dansa! Dance!"
This fun introduction to the Swedish alphabet, a romp from A to Z (and then Å to Ä to Ö), is also a delightful tour of the American Swedish Institute in Minneapolis, a cultural center alive with stories past and present. Artifacts from the museum's collection are charmingly rendered in watercolor and animated by whimsical pen-and-ink characters that draw readers from page to page. Tara Sweeney and Nate Christopherson, a mother and son collaborative team, create magical realism in A to Zåäö, their first picture book. Their irreverent curiosity delights and begs a timeless question—how can exploration and discovery help us grow?
About the Author
---
Award-winning artist, illustrator, and author Tara Sweeney received a Minnesota State Arts Board grant to co-illustrate and author A to Zåäö with her son, Nate Christopherson. She is author of Close to Home: A Minnesota Year in Sketches, a collection of illustrated creative nonfiction. She is professor emeritus at Augsburg University, where she taught drawing and painting for twenty-five years.

Nate Christopherson is a special education teacher and freelance illustrator. He created art for Amy Leach's Things That Are and a special edition of Robin Wall Kimmerer's Braiding Sweetgrass for the Minnesota Center for Book Arts. He received a Minnesota State Arts Board grant to illustrate The Island, an award-winning limited-edition collaborative artist book. Sweeney and Christopherson both live in St. Paul, Minnesota.