The Girl Who Raced Fairyland All the Way Home (Compact Disc)
COVID-19 Notification
*** Thank you for your overwhelming support! Please note: we are 48 hours behind processing online orders.
*** If you choose "In Store Pickup" as your delivery method, but you'd prefer to pick up your order via contactless curbside pickup, please type "CURBSIDE" in the comments box at checkout. Please note: curbside pickup is only available on Mondays, Tuesdays, and Thursdays from 1 to 5 p.m. and Saturdays from 10 a.m. to 2 p.m. If you do not specify "CURBSIDE" your order will be waiting for you behind the register inside the bookstore.
*** Women & Children First is not responsible for lost or stolen packages.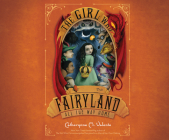 $39.99
Usually Ships in 1-5 Days
Description
---
September has been crowned as Queen of Fairyland but the Kingdom is in chaos. The magic of a Dodo egg has brought every King, Queen, or Marquees of Fairyland back to life, each with a claim on the throne and their own plots and histories. In order to make sense of it all, and to save their friend from a job she doesn't want, A-Through-L and Saturday devise a Royal Race, a Monarchical Marathon, in which every would-be ruler will chase the Stoat of Arms across the nation, and the first to seize the poor beast will be crowned. Caught up in the madness are September's parents, who have crossed the universe to find their daughter.