Orca Chief (Hardcover)
COVID-19 Notification
PLEASE READ BEFORE PLACING AN ORDER:
Thank you for your overwhelming support! We are 48 hours behind processing online orders.
As COVID-19 cases surge across the country, we have decided to close our doors for in-store browsing for three weeks beginning on Saturday, November 14.

During these three weeks, we will offer priority shipping to anywhere in the U.S. as well as curbside pickup in the parking lot behind our store from 11 a.m. to 5 p.m. seven days a week.

Do NOT come to the store until you get a confirmation email that your order is complete and ready for pickup!
OUR ONLINE STORE WILL BE CLOSED ON THURSDAY, NOVEMBER 26 TO GIVE OUR STAFF A MUCH-DESERVED BREAK!

Women & Children First is not responsible for lost or stolen packages.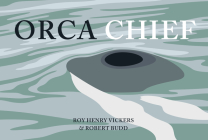 $19.95
Usually Ships in 1-5 Days
Description
---
Orca Chief is the third in a series of Northwest Coast legends by Roy Henry Vickers and Robert Budd. Their previous collaborations, Raven Brings the Light (2013) and Cloudwalker (2014), are award-winning national bestsellers.
Thousands of years ago in the village of Kitkatla, four hunters leave home in the spring to harvest seaweed and sockeye. When they arrive at their fishing grounds, exhaustion makes them lazy and they throw their anchor overboard without care for the damage it might do to marine life or the sea floor.
When Orca Chief discovers what the hunters have done, he sends his most powerful orca warriors to bring the men and their boat to his house. The men beg forgiveness for their ignorance and lack of respect, and Orca Chief compassionately sends them out with his pod to show them how to sustainably harvest the ocean's resources.
Accompanied by almost exclusively new illustrations by Roy Henry Vickers, this next installment of the Northwest Coast Legends will captivate readers young and old with its vivid imagery and remarkable storytelling.
About the Author
---
Roy Henry Vickers is a renowned carver, painter and printmaker whose Eagle Aerie Gallery in Tofino, BC, has become a provincial landmark. In 1998, Roy was appointed to the Order of British Columbia and in 2006, the Order of Canada. He is the co-author of the immensely popular Northwest Coast Legends series and the author of several books that showcase his art, including Storyteller (Harbour Publishing, 2014). He currently lives in Hazelton, BC.
Robert (Lucky) Budd holds an MA in history and has digitized many high-profile oral history collections including that of the Nisga'a First Nation. As well as co-authoring the Northwest Coast Legends series, he is the author of Voices of British Columbia (Douglas & McIntyre, 2010), a bestseller that was shortlisted for the 2011 Bill Duthie Booksellers' Choice Award, and its sequel, Echoes of British Columbia (Harbour Publishing, 2014). He currently lives in Victoria, BC.