City Colors (Paperback)
Before placing an order, please note:
You'll receive a confirmation email once your order is complete and ready for pickup.

If you place a pre-order in the same order as currently available titles, an additional shipping fee will be added to your order.

Women & Children First is not responsible for lost or stolen packages.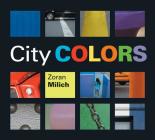 Description
---
Color has the power to inspire and delight. The playful photographs here invite youngsters on an international urban journey with color as their guide --- from London's famous red double-deckers to New York City's shiny black limousines to Rio de Janeiro's multicolored playgrounds. The ten colors featured are each clearly presented in a main photograph and in a smaller focus image.
About the Author
---
Zoran Milich is an award-winning photojournalist. He lives in Toronto, Ontario.
Praise For…
---
Milich complements his powerful The City ABC Book and City Signs with a dazzling new concept book.—School Library Journal

Photojournalist Zoral Milich's previous books for children, The City ABC Book, and City Signs, were masterful, intriguing demonstrations of elementary concepts executed in a minimalist way, and in a way that never undercuts the graphic elegance of the page. These are sophisticated books that give small folk a taste of something quite fine. In his newest book, City Colors, Milich moves from ABC's to red, white, and blue, and beyond. Milich's modus operandi is to use a double-page spread to "illustrate" a colour. Take the colour red, for instance; One the left-hand page, a small square frames a photograph of a part of something red. The right-hand page shows the whole thing - or enough of it to determine that what we've got is a red double-decker bus speeding down the tarmac. Black - not a colour for some - is presented as a photograph of a square of blackness interrupted by an interesting piece of shiny chrome. A black stretch limousine slithers across the black asphalt street on the right-hand page. Lots of aha! Moments here dressed up in pink, purple, and yellow, too.—Globe & Mail

Good picture books capture children and adults alike, neither too complicated to confuse a child trying to negotiate meaning nor to simple to turn off a parent from the requisite repeat reading. City Colors by Toronto photojournalist Zoran Milich does just that, with his striking images of London's red double-decker buses and Rio's multi-coloured playgrounds simultaneously providing parents with fodder for their great urban reveries while perfectly conveying to children the meaning of these bold colours. Both generations leave these children's books richer for the experience of it.— National Post

Boldly designed and photographed ... [a] satisfying mix of recognizable scenes and mysterious close-ups.—Horn Book