P Is for Putt: A Golf Alphabet (Sports Alphabet) (Paperback)
Before placing an order, please note:
You'll receive a confirmation email once your order is complete and ready for pickup.

If you place a pre-order in the same order as currently available titles, an additional shipping fee will be added to your order.

Women & Children First is not responsible for lost or stolen packages.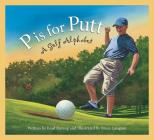 Description
---
Fore Lookout for the latest shot from the Sleeping Bear Press sports title: P is for Putt: A Golf Alphabet. Look no further than the ever-growing popularity of Tiger Woods and Michelle Wie to see that golf is a sure-fire hit in the hearts of youngsters. And adults This fun and educational ABC book takes a look at golf's illustrious history and stars in easy-to-read rhyming text that follows the heroics of Babe Didrikson Zaharias to the splendor of the Master to the mystery of the dimples of every golf ball. Sport-loving Brad Herzog brings his pen power to skillfully explain the game on grass and the characters and legends that make golf as fun as it is difficult to master. No matter what course hackers step upon - their local public course or the majesty of Pebble Beach, golf is a game full of color and colorful character and history. Artist Bruce Langton brings his outdoor eye to capture the rich and lustrous palette of the sport of swings. A perfect gift for the sport nut, amateur golfer or anyone who has dreamed of playing alongside the greats, P is for Putt: A Golfer's Alphabet is a welcome addition to any golf bag, bookshelf or 19th hole. Once the book is opened, it won't be put down until every fun, fact-filled page has been shared and shared some more. Teeing off this April.