For Young Women Only: What You Need to Know About How Guys Think (CD-Audio)
Before placing an order, please note:
You'll receive a confirmation email once your order is complete and ready for pickup.

If you place a pre-order in the same order as currently available titles, an additional shipping fee will be added to your order.

Women & Children First is not responsible for lost or stolen packages.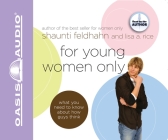 Description
---
Why are guys so weird? Unravel the mystery. A national scientific survey and in-depth personal interviews give you an unprecedented look inside the teenage male mind. Discover how: He'd be perfectly fine if he was loved by few and hated by many…as long as he was respected by all His ego is the size of Africa (but so are his insecurities) He hides his real feelings under a tough exterior He's magnetized by pretty girls–but also wants to find a diamond in the rough He actually does want to marry a virgin He just wants you to be yourself. It's the inside scoop you've been waiting for! You'll come to not only understand him, but also know what he might really be thinking about you.
About the Author
---
Shaunti Feldhahn is a bestselling author, nationally-syndicated newspaper columnist, and public speaker. She earned her master's degree at Harvard University, but instead of working on Wall Street as she once did, today she uses her analytical skills to figure out what makes guys tick. Lisa A. Rice is the associate editor of Christian Living magazine, the mother of two teenage girls, and an experienced screenwriter and producer with her husband, Eric, at the Atlanta-based 44 Films.
Praise For…
---
"Shanti Feldhahn's perky voice is ideal for the target audience of this guide to the inner lives of young men: teen girls. Through surveys and discussions with 15-to-20-year-old men, she and her co-author found that they care less about getting love and affection than about being respected for their competence, reliability, and moral strength. Their insecurities and fear of being judged are typically masked by overconfidence, humor, bravado, or "faking it"—coping mechanisms that make life difficult for young women trying to understand them. The authors' advice on sex and the importance of developing inner and outer beauty is culturally attuned. With its eye-opening insights and steady encouragement to teens to take more control of their lives, this is a heartfelt and important audio resource." 
T.W. © AudioFile Portland, Maine