Graff: The Art & Technique of Graffiti (Paperback)
COVID-19 Notification
PLEASE READ BEFORE PLACING AN ORDER:
Thank you for your overwhelming support! We are 48 hours behind processing online orders.
As COVID-19 cases surge across the country, we have decided to close our doors for in-store browsing for three weeks beginning on Saturday, November 14.

During these three weeks, we will offer priority shipping to anywhere in the U.S. as well as curbside pickup in the parking lot behind our store from 11 a.m. to 5 p.m. seven days a week.

Do NOT come to the store until you get a confirmation email that your order is complete and ready for pickup!
OUR ONLINE STORE WILL BE CLOSED ON THURSDAY, NOVEMBER 26 TO GIVE OUR STAFF A MUCH-DESERVED BREAK!

Women & Children First is not responsible for lost or stolen packages.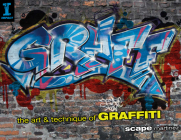 Description
---
Once viewed as merely a blemish on the urban landscape, graffiti today has evolved into a legitimate art form in its own right, influencing entertainment, advertising, fashion and other creative industries worldwide. In this unprecedented book, master graffiti artist Scape Martinez shows how he does his thing, offering streetwise advice to help other writers create maximum-impact, legally sanctioned work. Step by step, he lays out the philosophies and realities of the genre. From picking a tag and developing letterforms, to the logistics of prepping a wall and working a spray can in a painterly fashion, Graff will help you find your style and leave your mark--large and loud. - A breakdown of the fundamental elements of graffiti-style--letters, character, backgrounds--and how they work together and intermingle with arrows, symbols, quotes and tags
- From paper to wall, a start-to-finish approach for creating graffiti in various styles
- 5 on-site step-by-step demonstrations show the creation of various types of compositions, from throw ups to full-blown pieces
Complete with a glossary and a timeline tracing graffiti history, Graff is the bible for street artists looking to elevate their work, graphic designers wanting to expand their vocabulary, and anyone interested in giving their work an edgy, urban look.
About the Author
---
Scape Martinez creates with spray enamel, house paint, markers, acrylic and watercolor. He owns and operates two youth clothing lines, Liquidscape and Respect, Inc., and is an arts advocate for kids. He is regularly featured in exhibits; does murals and designs; lectures and teaches in the San Jose area and beyond. He's been featured in Artweek, San Jose Mercury News, Melro, San Jose City Times and The Times of San Jose City College. www.liquidscape.com