Self-Sufficiency: A Complete Guide to Baking, Carpentry, Crafts, Organic Gardening, Preserving Your Harvest, Raising Animals, and More! (Self-Sufficiency Series) (Hardcover)
Before placing an order, please note:
You'll receive a confirmation email once your order is complete and ready for pickup.

If you have a membership, please make a note of this in the order comments and we'll apply your discount.

If you place a pre-order in the same order as currently available titles, an additional shipping fee will be added to your order.

Women & Children First is not responsible for lost or stolen packages.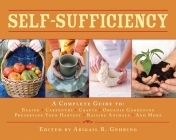 Description
---
Now, more than ever, people across the country are turning toward simpler, greener, and quieter ways of living—whether they're urbanites or country folk. Following in the footsteps of Back to Basics and Homesteading, this large, fully-illustrated book provides the entire family with the information they need to make the shift toward self-sufficient living.

Self-Sufficiency provides tips, advice, and detailed instructions on how to improve everyday life from an environmentally and organic perspective while keeping the focus on the family. Readers will learn how to plant a family garden and harvest the produce; can fruits and vegetables; bake bread and cookies; design interactive and engaging "green" projects; harness natural wind and solar energy to cook food and warm their homes; boil sap to make maple syrup; and build treehouses, furniture, and more. Also included are natural crafts readers can do with their kids, such as scrapbooking, making potato prints, dipping candles, and constructing seasonal decorations. Whether the goal is to live entirely off the grid or just to shrink their carbon footprints, families will find this book a thorough resource and a great inspiration.
About the Author
---
Abigail R. Gehring is the author or editor of more than a dozen books including Back to Basics, Homesteading, The Illustrated Encyclopedia of Country Living, and Classic Candy. She enjoys writing, gardening, experimenting in the kitchen, and spending time with family. She lives with her husband and two children in an 1800s farmstead they are restoring in Marlboro, Vermont.