What Is Buddhism?: Buddhism for Children Level 3 (Paperback)
PLEASE READ BEFORE PLACING AN ORDER:
-Please do not come to the store until you get a confirmation email that your order is complete and ready for pickup!
-Please place orders for pre-order titles separately. If your pre-order is placed with other titles, please note that we will add additional shipping fees.
-Women & Children First is not responsible for lost or stolen packages.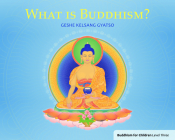 Description
---
This book introduces the mind, as distinct from the brain, and invites the reader to explore and develop their mind using scientific methods taught by Buddha. It shows how the problems we encounter in life do not exist outside of ourself, but are part of our mind that experiences unpleasant feelings. Learning to control our mind, especially our desire, is the only way to bring all our problems to an end.
About the Author
---
Venerable Geshe Kelsang Gyatso is a fully accomplished meditation master and internationally renowned teacher of Buddhism who has pioneered the introduction of modern Buddhism into contemporary society. He is the author of 22 highly acclaimed books that transmit perfectly the ancient wisdom of Buddhism to our modern world. He has also founded over 1200 Kadampa Buddhist Centers and groups throughout the world. In his teachings, Geshe Kelsang emphasizes the importance of meditation and how to apply it in daily life. He reveals practical methods for developing wisdom, cultivating a good heart and maintaining a peaceful mind through which we can all find true and lasting happiness. Demonstrating these qualities perfectly in his own life, Geshe Kelsang has dedicated his whole life to helping others find inner peace and happiness.
Praise For…
---
"Geshe Kelsang Gyatso is a highly respected meditation master and scholar of the Mahayana Buddhist tradition." –Spirituality & Health
"Geshe Kelsang Gyatso illuminates the very heart of Buddhist thought and practice." –Booklist
"Geshe Kelsang Gyatso has proven to be a popular and accessible authority" –Library Journal