A Slice through America: A Geological Atlas (Hardcover)
PLEASE READ BEFORE PLACING AN ORDER:
Thank you for your overwhelming support! We are 48 hours behind processing online orders.

As COVID-19 cases surge across the country, we have decided to close our doors for in-store browsing.

During this time, we will offer priority shipping to anywhere in the U.S. as well as curbside pickup in the parking lot behind our store from 11 a.m. to 5 p.m. seven days a week.

Do NOT come to the store until you get a confirmation email that your order is complete and ready for pickup!
OUR ONLINE STORE WILL BE CLOSED ON DECEMBER 25 & 26 TO GIVE OUR STAFF A MUCH-DESERVED BREAK!

Women & Children First is not responsible for lost or stolen packages.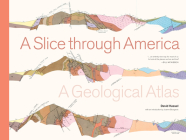 Description
---
Historic stratigraphic illustrations depict the earth beneath our feet in captivating hand-drawn diagrams. Each drawing tells a unique geologic story, exquisitely rendered in colors from pastel palettes to brilliant bolds that show evolving scientific graphic conventions over time.

Created by federal and state geologists over the course of one hundred years, the maps reveal sedimentary rock layers that present an unexpected view of our treasured public lands, making this collection an important record of natural resources, as well as a beautiful display of map design. The fascinating history of the science behind the drawings is explored by sedimentary geologist Jody Bourgeois, a professor emeritus at the University of Washington's College of the Environment and a fellow of the Geological Society of America.
About the Author
---
David Kassel, founder of ILevel, an art installation firm in New York City, has been collecting stratigraphic drawings for some forty years. While an art student at the State University of New York, in 1977, he came across two small geological cross-section diagrams at an old bookshop in Nyack, New York. Though unfamiliar with their origins, he immediately responded to the lines and colors of these scientific documents, and bought them for ten cents each. Today, he owns two hundred geological illustrations, including cross-sections, isometric drawings, and mining maps.
Praise For…
---
"A must for anyone who appreciates geology or antique atlases and maps."
- Library Journal

"Here's an entirely new way for most of us to look at the places we live and love-the beauty of these drawings is matched only by the stories they tell about both deep geological history and the human saga of extraction."
- Bill McKibben

"What a brilliant, inspired idea! Geological maps are always the most memorable of cartographic creations, with their vivid colors and strange patterns telling us of the mysterious invisible underpinnings of our world. And geological cross sections, which have an extra sort of three-dimensionality to them, are even more spectacular. The notion of illustrating America by way of her unseen underneath is a stroke of genius, and David Kassel is to be applauded for allowing us to see this country in a very different, fascinating and beautiful light."
- Simon Winchester

"Who would have guessed geology could be so seductive? The diagrams in this collection offer us multiple layers of graphical delight in an evocative, page-turning experience. The bold use of shape and color, the originality of its layouts, and the meticulous attention to detail make this a riveting compilation for any graphic design enthusiast."
- Manuel Lima