Science of Creature Design: Understanding Animal Anatomy (Hardcover)
Before placing an order, please note:
You'll receive a confirmation email once your order is complete and ready for pickup.

If you have a membership, please make a note of this in the order comments and we'll apply your discount.

If you place a pre-order in the same order as currently available titles, an additional shipping fee will be added to your order.

Women & Children First is not responsible for lost or stolen packages.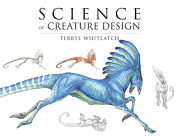 Description
---
What is creature design? We all have a notion--mostly consisting of evocative images of otherworldly beings galloping, swimming, flying, and often attacking the hero of an epic film or story. But what makes a creature believable? In the follow-up to her bestseller, Animals Real and Imagined: The Fantasy of What Is and What Might Be, world-renowned artist Terryl Whitlatch reveals the secret behind believable creature design: anatomy. How anatomy applies practically to the natural history and story is the prime cornerstone on which successful creature design hangs, whether the creature is real or imaginary. Studying, understanding, drawing, and applying accurate anatomy to an imaginary creature will make viewers suspend their disbelief to welcome a new vision into their worlds. We invite you to immerse yourself in the intricate workings of numerous animal anatomies--and the beauty they possess--in the Science of Creature Design: Understanding Animal Anatomy. Whitlatch's delightful and charismatic illustrations will inform and thrill readers with every turn of the page. She shares valuable techniques reaped from years working for Lucasfilm and Walt Disney Feature Animation, and on such films as Jumanji, Brother Bear, and The Polar Express. In addition, Whitlatch exemplifies an endless love for real animals that continues to inspire her fantastic imaginary creatures, which have captivated audiences around the world.
About the Author
---
Terryl Whitlatch is an accomplished, scientifically and academically trained illustrator who extensively studied vertebrate zoology and animal anatomy. She has worked for various zoos and museums in the United States and as senior consultant on Wildlife Art and Animal Anatomy for the World Wildlife Fund. She is considered to be one of the top creature designers and animal anatomists working in the field today. In a career spanning more than 25 years, Whitlatch has many projects to her credit, including Star Wars: The Phantom Menace, Star Wars: The Special Edition, Jumanji, Men in Black, Brother Bear, Dragonheart, Alvin and the Chipmunks, Curious George, The Polar Express, and Beowulf. For over seven years, she worked for Lucasfilm, Industrial Light & Magic, and George Lucas s JAK Films. Her illustration skills and comprehensive knowledge of animal anatomy and movement are essential in the development of believable creature creation."