Rock 'n' Roll Billboards of the Sunset S (Paperback)
Before placing an order, please note:
You'll receive a confirmation email once your order is complete and ready for pickup.

If you place a pre-order in the same order as currently available titles, an additional shipping fee will be added to your order.

Women & Children First is not responsible for lost or stolen packages.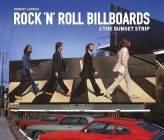 Description
---
The Sunset Strip, circa 1967. Buffalo Springfield called it right: "There's something happening here...what it is ain't exactly clear." What was happening then is now absolutely clear. Rock 'n' roll and the kids who lived it were coming of age--right there on The Strip. And, as if to define the era, a few independent minds in the music industry posted giant, temporary monuments that said it all. Billboards. Bigger than life. Hand-painted homages to rock. The Doors led the way. It seemed that billboards would chronicle rock forever.
In Rock 'n' Roll Billboards of the Sunset Strip, author/photographer Robert Landau showcases these signs of the time, a time when rock was the most important music ever recorded, when youth, politics, and art merged to turn counterculture into mainstream culture.
Landau was right there, a kid destined to be a professional photographer, shooting his first pictures. Decades later, he rediscovered his Kodachromes, the only extensive collection of photographs that document those iconic billboards. Impassioned, he interviewed the artists, record producers, and designers who shaped those placards, bringing fresh insight to the culture of the day and its lasting impact on the world. He tells it like it was, through the people who lived the music, the time, the energy...and the billboards.
A must for every rock lover, pop-art aficionado, and socio-culture freak, Rock 'n' Roll Billboards of the Sunset Strip is a coffee-table book to read and reread, view and review, a book with a beginning and, perhaps tragically, an end. Yes, the true rock 'n' roll billboard era ended, but Robert Landau has created a bound museum of its best artwork, a gallery that shows what was happening there. On the Sunset Strip.
Robert Landau is a photographer and author of several visual books, including the acclaimed Tales from The Strip. His photographs have been shown all over the world. A native Angeleno, his take on L.A. is distinctively passionate and journalistic.