Walden and Civil Disobedience: Or, Life in the Woods (MP3 CD)
Before placing an order, please note:
You'll receive a confirmation email once your order is complete and ready for pickup.

If you place a pre-order in the same order as currently available titles, an additional shipping fee will be added to your order.

Women & Children First is not responsible for lost or stolen packages.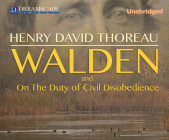 Description
---
An experiment. A declaration. A spiritual awakening. Noted transcendentalist Henry David Thoreau spent two years, two months and two days chronicling his near-isolation in a small cabin he built in the woods near Walden Pond, on land owned by his mentor and the father of Transcendentalism, Ralph Waldo Emerson. Immersing himself in nature and solitude, Thoreau sought to develop a greater understanding of society amidst a life of self-reliance and simplicity. Originally published in 1854, Walden remains one of the most celebrated works in American literature. Also includes Walden's essay, On the Duty of Civil Disobedience.
About the Author
---
Henry David Thoreau (1817-1862) was an American author, naturalist, and philosopher. He was a leading figure in the Transcendentalism movement of the mid-1800s and an outspoken abolitionist. A prolific author and essayist, Thoreau is best known as the author of Walden and Civil Disobedience.