Little Women (MP3 CD)
Not all titles listed on our website are available in-store. You can call to confirm that a book you're looking for is available at our store by calling 773-769-9299.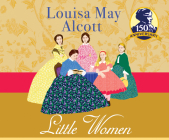 $29.99
Usually Ships in 1-5 Days
Description
---
Based loosely on Louisa May Alcott's own upbringing, Little Women follows the lives of four sisters - Meg, Jo, Beth, and Amy March. Each girl has a vision of what their ideal future will bring, though ultimately experiencing, as most young do, something completely different. Little Women, originally written as two volumes, was a great commercial success and is considered one of the most widely read American novels.