Under the Tulip Tree (CD-Audio)
Before placing an order, please note:
You'll receive a confirmation email once your order is complete and ready for pickup.

If you have a membership, please make a note of this in the order comments and we'll apply your discount.

If you place a pre-order in the same order as currently available titles, an additional shipping fee will be added to your order.

Women & Children First is not responsible for lost or stolen packages.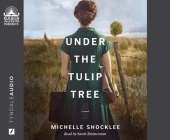 Description
---
Sixteen-year-old Lorena Leland's dreams of a rich and fulfilling life as a writer are dashed when the stock market crashes in 1929. Seven years into the Great Depression, Rena's banker father has retreated into the bottle, her sister is married to a lazy charlatan and gambler, and Rena is an unemployed newspaper reporter. Eager for any writing job, Rena accepts a position interviewing former slaves for the Federal Writers' Project. There, she meets Frankie Washington, a 101-year-old woman whose honest yet tragic past captivates Rena.

As Frankie recounts her life as a slave, Rena is horrified to learn of all the older woman has endured—especially because Rena's ancestors owned slaves. While Frankie's story challenges Rena's preconceptions about slavery, it also connects the two women whose lives are otherwise separated by age, race, and circumstances. But will this bond of respect, admiration, and friendship be broken by a revelation neither woman sees coming?
About the Author
---
Michelle Shocklee is the author of several historical novels and is a Selah Awards finalist. Her work has been included in numerous Chicken Soup for the Soul books, magazines, and blogs. Married to her college sweetheart and the mother of two grown sons, she makes her home in Tennessee, not far from the historical sites she writes about. Visit her online at michelleshocklee.com.