The Secrets of Tenet: Inside Christopher Nolan's Quantum Cold War, Foreword by John David Washington, backword by Kenneth Branagh (Tenet Movie, Making of Tenet, Movie Books, Coffee Table Art Books) (Hardcover)
PLEASE READ BEFORE PLACING AN ORDER:
-Please do not come to the store until you get a confirmation email that your order is complete and ready for pickup!
-Please place orders for pre-order titles separately. If your pre-order is placed with other titles, please note that we will add additional shipping fees.
-Women & Children First is not responsible for lost or stolen packages.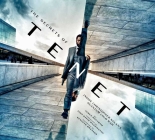 Description
---
"It's like Inception but complicated." — Nilo Otero, Tenet first assistant director
FROM DIRECTOR CHRISTOPHER NOLAN comes a mind-blowing espionage thriller so unique that audiences will puzzle over its intricacies for years to come.
The Secrets of Tenet
takes readers on an exclusive journey into Nolan's time-bending masterpiece, offering rare insights into all aspects of its creation.
Learn from Christopher Nolan himself, as he and a range of other key collaborators—including producer Emma Thomas and production designer Nathan Crowley—give you an essential masterclass that lays bare the director's process and his singular creative vision.
Discover exclusive art and never-before-seen photos. Illustrated with candid behind-the-scenes imagery and compelling conceptual art, this is the ultimate exploration of a film guaranteed to linger in the imagination long into the future…and perhaps the past.
John David Washington and Kenneth Branagh share their personal perspectives on working with Christopher Nolan in the book's foreword and backword.
A prestige volume for your home library. This large format, deluxe book is the perfect addition to your bookshelf or coffee table—a must-have memento for Christopher Nolan fans.
About the Author
---
James Mottram is a film critic, journalist and author. He has written several books on cinema, including The Making of Memento, The Sundance Kids, and The Making of Dunkirk, and contributed to numerous critical anthologies on everything from Japanese cinema to war movies. He lives in London.