Harry Potter: Conversation Cards: 125 Magical Musings (Cards)
Before placing an order, please note:
You'll receive a confirmation email once your order is complete and ready for pickup.

If you place a pre-order in the same order as currently available titles, an additional shipping fee will be added to your order.

Women & Children First is not responsible for lost or stolen packages.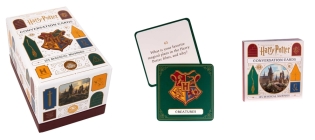 Description
---
Dive deeper into the magic of the Wizarding World with this engaging card deck featuring 125 thought-provoking, challenging, and quirky questions inspired by the Harry Potter films.
The world of the Harry Potter films is endlessly intriguing, filled with magic, mystery, complicated characters, captivating places, and countless curiosities. Now fans can further explore the immersive world of their favorite films with this one-of-a-kind deck featuring 125 "conversation cards" designed to provoke thoughtful and interesting discussions while also exploring the enchanting universe onscreen. Questions include:
What memory would you use to conjure a Patronus?
What career would you pursue in the Wizarding World?
What subject would you be most interested in taking at Hogwarts?
Who would you choose to be your Secret Keeper?
The deck also comes with a 72-page booklet featuring behind-the-scenes insights, film stills, and concept art packaged in a decorative box perfect for gift giving or displaying on your coffee table or shelf.
Harry Potter: Conversation Cards
is a fun and interesting way for fans to share their love of the Harry Potter films with friends and family.
125 CARDS:
Each card features a fun and intriguing question designed to fuel interesting conversation about the Wizarding World of the Harry Potter films.
FACT-FILLED BOOK:
Included book delves deeper into the themes featured in the card deck with memorable quotes, film stills, and concept art.
KEEPSAKE BOX:
Designed to be displayed on a coffee table or bookshelf,
Harry Potter: Conversation Cards
comes packaged in a sturdy gift box perfect for gift giving.
CONTEMPLATION AND CONVERSATION:
Answer the questions on your own to reflect on your knowledge and love of the Harry Potter films or with fellow fans to inspire spirited discussions.
OFFICIAL WIZARDING WORLD SET:
Created in collaboration with the producers of the Harry Potter films.
About the Author
---
Jody Revenson has written extensively about the Harry Potter films, with her most recent books being Harry Potter: Spells & Charms: A Movie Scrapbook and Harry Potter: Hogwarts: A Movie Scrapbook. In her first foray into the Wizarding World, she edited and contributed to the New York Times best sellers Harry Potter: Film Wizardry and Harry Potter: Page to Screen.