Nathalie Lété: Tree of Birds 1,000-Piece Puzzle (Artisan Puzzle) (Jigsaw)
Before placing an order, please note:
We will be closed Thursday, November 24 & Friday, November 25. If you place an order during that time it will not be processed until Saturday, November 26.

You'll receive a confirmation email once your order is complete and ready for pickup.

If you place a pre-order in the same order as currently available titles, an additional shipping fee will be added to your order.

Women & Children First is not responsible for lost or stolen packages.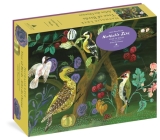 Description
---
Welcome to Nathalie Lété's Enchanted World

So familiar, yet so . . . strange. Just like a dream, where flowers bloom at night, berries appear to be in bursting ripeness, and birds, so singular, so unexpected, gather in front of your eyes. Piece by piece, fall under the spell of Nathalie Lété's imagination, and revel in her breathtaking colors and imagery.

Featuring:
1,000 full-color interlocking pieces
Art print with puzzle image
Finished puzzle is 23 4/5" x 19"
About the Author
---
Nathalie Lété was born in France to a German mother and a Chinese father. A prolific and versatile artist, she has been commissioned to create work for brands around the world, from fashion and design brands in Japan and China to ceramic companies in the Netherlands to furniture brands in England, France, New Zealand, and Australia. She has held independent exhibitions around the globe, and in 2015, a retrospective exhibition of her work was mounted at the Musée de la Piscine in Roubaix, France. She lives and works in Paris.