Crisis on the Border: An Eyewitness Account of Illegal Aliens, Violent Crime, and Cartels (Compact Disc)
Before placing an order, please note:
You'll receive a confirmation email once your order is complete and ready for pickup.

If you place a pre-order in the same order as currently available titles, an additional shipping fee will be added to your order.

Women & Children First is not responsible for lost or stolen packages.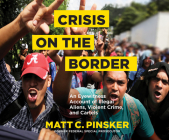 Description
---
For six months, Army Captain Matt C. Pinsker was deployed to the Mexican-American border as a member of a unique mission. He and a handful of others were assigned to the Department of Justice as Special Prosecutors to handle the increasing number of immigration cases resulting from President Trump's "zero tolerance" policy.Once arrived, Captain Pinsker found himself dead center handling the near-impossible challenges of America's immigration crisis. Overnight, he was directly involved in family separations, DACA, asylum seekers and refugees, the war on drugs, gun-running, the Mexican cartels, caravans, and human trafficking. And every day, he was making decisions that would permanently affect those whose lives he touched.In the course of these official interactions, Pinsker experienced some unexpected gut punches. Over weeks, then months, he discovered that the situation at the border was far more dangerous than most Americans realized, simultaneously creating a massive humanitarian crisis both at home and abroad. In this stunning book, Captain Pinsker describes a constant cycle of violence, human trafficking, and drug smuggling. He reveals how vulnerable immigrants are preyed upon and exploited en route to the border. As Captain Pinsker shares what took place on his watch--from separating refugee families to protecting them from the barbarism of Mexican drug cartels--he delivers an indictment of America's failure to fix its broken immigration system and truly secure its border.