Boyfriend Material (MP3 CD)
COVID-19 Notification
*** Thank you for your overwhelming support! Please note: we are 48 hours behind processing online orders.
*** If you choose "In Store Pickup" as your delivery method, but you'd prefer to pick up your order via contactless curbside pickup, please type "CURBSIDE" in the comments box at checkout. Please note: curbside pickup is only available on Mondays, Tuesdays, and Thursdays from 1 to 5 p.m. and Saturdays from 10 a.m. to 2 p.m. If you do not specify "CURBSIDE" your order will be waiting for you behind the register inside the bookstore.
*** Women & Children First is not responsible for lost or stolen packages.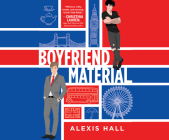 Description
---
Luc O'Donnell is tangentially?and reluctantly?famous. His rock-star parents split when he was young, and the father he's never met spent the next twenty years cruising in and out of rehab. Now that his dad's making a comeback, Luc's back in the public eye, and one compromising photo is enough to ruin everything.To clean up his image, Luc has to find a nice normal relationship...and Oliver Blackwood is as nice and normal as they come. He's a barrister, an ethical vegetarian, and someone who has never inspired a moment of scandal in his life. In other words, he's perfect boyfriend material. Unfortunately, apart from being gay, single, and really really in need of a date for a big event, Luc and Oliver have nothing in common. So they strike a deal to be publicity-friendly (fake) boyfriends until the dust settles. Then they can go their separate ways and pretend it never happened.But the thing about fake-dating is that it can feel a lot like real-dating. And that's when you get used to someone...start falling for them...don't ever want to let them go.