What Is Marriage?: Man and Woman: A Defense (Compact Disc)
PLEASE READ BEFORE PLACING AN ORDER:
Thank you for your overwhelming support! We are 48 hours behind processing online orders.

As COVID-19 cases surge across the country, we have decided to close our doors for in-store browsing.

During this time, we will offer priority shipping to anywhere in the U.S. as well as curbside pickup in the parking lot behind our store from 11 a.m. to 5 p.m. seven days a week.

Do NOT come to the store until you get a confirmation email that your order is complete and ready for pickup!
OUR ONLINE STORE WILL BE CLOSED ON DECEMBER 25 & 26 TO GIVE OUR STAFF A MUCH-DESERVED BREAK!

Women & Children First is not responsible for lost or stolen packages.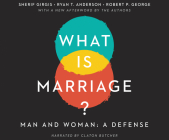 $34.99
Usually Ships in 1-5 Days
Description
---
Until very recently, no society had seen marriage as anything other than a conjugal partnership: a male-female union. What Is Marriage? identifies and defends the reasons for this historic consensus and shows why redefining civil marriage as something other than the conjugal union of husband and wife is a mistake.Sherif Girgis, Ryan T. Anderson, and Robert P. George offer a devastating critique of the idea that equality requires redefining marriage. They show why both sides must first answer the question of what marriage really is. They defend the principle that marriage, as a comprehensive union of mind and body ordered to family life, unites a man and a woman as husband and wife, and they document the social value of applying this principle in law.Most compellingly, they show that those who embrace same-sex civil marriage leave no firm ground--none--for not recognizing every relationship describable in polite English, including polyamorous sexual unions, and that enshrining their view would further erode the norms of marriage, and hence the common good.Finally, What Is Marriage? decisively answers common objections: that the historic view is rooted in bigotry, like laws forbidding interracial marriage; that it is callous to people's needs; that it can't show the harm of recognizing same-sex couplings or the point of recognizing infertile ones; and that it treats a mere "social construct" as if it were natural or an unreasoned religious view as if it were rational.