Merci Suárez Se Pone Las Pilas (Compact Disc)
Before placing an order, please note:
You'll receive a confirmation email once your order is complete and ready for pickup.

If you have a membership, please make a note of this in the order comments and we'll apply your discount.

If you place a pre-order in the same order as currently available titles, an additional shipping fee will be added to your order.

Women & Children First is not responsible for lost or stolen packages.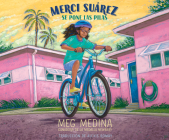 Description
---
Merci Su rez sab a que el sexto grado ser a diferente, pero no ten a idea alguna lo diferente que resultar a. En primer lugar, Merci nunca se ha parecido a los otros ni os de su escuela privada en la Florida, porque tanto ella como Roli, su hermano mayor, son estudiantes becados. Ellos no tienen ni una casa grande ni un yate elegante, y tienen que desempe ar servicios comunitarios adicionales para compensar por su matricula gratis. As que cuando la mandona de Edna Santos se fija en el nuevo ni o que la escuela le ha asignado a Merci como su "amigos de arco iris," Merci se convierte en el foco de los celos de Edna. Las cosas no andan muy bien en su casa tampoco: Lolo, el abuelo de Merci, su aliado de mayor confianza, ha estado actuando un poco raro ltimamente: se le olvida cosas importantes, se cae de la bicicleta y se enoja por cualquier cosa. Nadie en la familia le ha dicho a Merci qu es lo que le aflige, as que Merci tiene que lidiar sola con sus preocupaciones, a la vez que se siente aislada en la escuela. En una historia sobre los ritos de la pre-adolescencia, llena de humor y sabidur a, la galardonada autora Meg Medina llega al fondo del desconcierto y del cambio continuo que caracterizan el ltimo a o de la escuela elemental, as como de los lazos inquebrantables de la familia.