Midnight in Vehicle City: General Motors, Flint, and the Strike That Created the Middle Class (Compact Disc)
Before placing an order, please note:
You'll receive a confirmation email once your order is complete and ready for pickup.

If you place a pre-order in the same order as currently available titles, an additional shipping fee will be added to your order.

Women & Children First is not responsible for lost or stolen packages.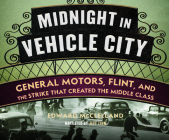 $34.99

We can order this for you!
Description
---
The tumultuous Flint sit-down strike of 1936-1937 was the birth of the United Auto Workers, which set the standard for wages in every industry. Midnight in Vehicle City tells the gripping story of how workers defeated General Motors, the largest industrial corporation in the world. Their victory ushered in the golden age of the American middle class and created a new kind of America, one in which every worker had a right to a share of the company's wealth. The causes for which the strikers sat down--collective bargaining, secure retirement, better wages--enjoyed a half century of success. But now, the middle class is disappearing and economic inequality is at its highest since before the New Deal.Through the voices of those who lived it, journalist and historian Edward McClelland brings the action-packed events of the strike to life: the takeovers of GM plants, the violent showdowns between picketers and the police, Michigan governor Frank Murphy's activation of the National Guard, the actions of the Women's Emergency Brigade, and the tense negotiations that took place between labor leader John L. Lewis, GM chairman Alfred P. Sloan, and labor secretary Frances Perkins.In a time of great inequality and a gutted middle class, this dramatic story is a testament to what workers can gain when they stand up for their rights, revealing the middle class as one of the greatest inventions of the 20th century and guiding our understanding of what we will lose if we don't revive it.