Yule: Rituals, Recipes & Lore for the Winter Solstice (Llewellyn's Sabbat Essentials #7) (MP3 CD)
PLEASE READ BEFORE PLACING AN ORDER:
-Please do not come to the store until you get a confirmation email that your order is complete and ready for pickup!
-Please place orders for pre-order titles separately. If your pre-order is placed with other titles, please note that we will add additional shipping fees.
-Women & Children First is not responsible for lost or stolen packages.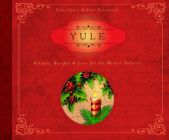 Description
---
Yule?also known as the Winter Solstice?is celebrated when nighttime has reached its maximum length, and there is a promise of brighter days to come as candles are lit and feasts are enjoyed. This guide shows you how to perform rituals and work magic with the energy of rebirth and renewal that comes with the return of the light. A range of topics are included: - Rituals- Recipes- Lore- Spells- Divination- Crafts- Correspondences- Invocations- Prayers- MeditationsLlewellyn's Sabbat Essentials explore the old and new ways of celebrating the seasonal rites that are the cornerstones of the witch's year.