The Water Defenders: How Ordinary People Saved a Country from Corporate Greed (Compact Disc)
Before placing an order, please note:
You'll receive a confirmation email once your order is complete and ready for pickup.

If you have a membership, please make a note of this in the order comments and we'll apply your discount.

If you place a pre-order in the same order as currently available titles, an additional shipping fee will be added to your order.

Women & Children First is not responsible for lost or stolen packages.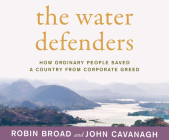 Description
---
In a time when countless communities are resisting powerful corporations--from Flint, Michigan, to the Standing Rock Reservation, to Didipio, Philippines, to the Gualcarque River in Honduras--The Water Defenders presents the inspirational story of a community that took on Big Gold at seemingly insurmountable odds and won two historic victories.In the early 2000s, many people in El Salvador were at first excited by the prospect of jobs, progress, and prosperity that the Pacific Rim mining company promised. However, farmer Vidalina Morales and brothers Marcelo and Miguel Rivera soon discovered that the river system that supplies water to the majority of Salvadorans was in danger of catastrophic contamination. With a group of unlikely allies, both local and global, they committed to stop the corporation and the destruction of their home.Based on over a decade of research and their own role as international allies of the community groups in El Salvador, Robin Broad and John Cavanagh unspool this untold story, replete with corporate greed, a transnational lawsuit at a secretive World Bank tribunal in Washington, DC, violent threats, murders, and, surprisingly, victory. The husband-and-wife duo immerse listeners in the lives of the Salvadoran villagers, the journeys of the local activists who sought the truth about the effects of gold mining on the environment, and the behind-the-scenes maneuverings of the corporate mining executives. The Water Defenders demands that we examine our assumptions about progress and prosperity, while providing valuable lessons for other communities and allies fighting against destructive corporations in the United States and across the world.