Wuthering Heights (MP3 CD)
Not all titles listed on our website are available in-store. You can call to confirm that a book you're looking for is available at our store by calling 773-769-9299.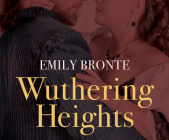 $29.99
Usually Ships in 1-5 Days
Description
---
Wuthering Heights was written in 1846 and is considered a staple in classic English literature. Themed with love, revenge and jealously the between the main characters, Catherine and Heathcliff. This dramatic and moving reading of Wuthering Heights is one to add to your collection.