Rain in Our Hearts: Alpha Company in the Vietnam War (Peace and Conflict) (Hardcover)
Before placing an order, please note:
You'll receive a confirmation email once your order is complete and ready for pickup.

If you place a pre-order in the same order as currently available titles, an additional shipping fee will be added to your order.

Women & Children First is not responsible for lost or stolen packages.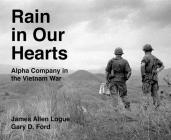 Description
---
With words and photographs, Rain in Our Hearts takes readers into Alpha Company, 4th Battalion, 31st Infantry, 196th LIB, Americal Division in 1969-1970. Jim Logue, a professional photographer, was drafted and served as an infantryman; he also carried a camera. "In order to take my mind off the war," he would say, "I took pictures." Logue's photos showcase the daily lives of infantrymen: setting up a night laager, chatting with local children, making supply drops, and "humping" rucksacks miles each day in search of the enemy. His camera records the individual experiences and daily lives of the men who fought the war. Accompanying Logue's over 100 photographs is the narrative written by Gary D. Ford. Wanting to reconstruct the story of Alpha Company during the time in which Logue served, Ford and Logue trekked across America to meet with and interview every surviving member whom they could locate and contact. Each chapter of Rain in Our Hearts focuses on the viewpoint and life of one member of Alpha Company, including aspects of life before and after Vietnam. The story of the Company's movements and missions over the year unfold as readers are introduced to one soldier at a time. Taken together, Rain in Our Hearts offers readers a window into the words and sights of Alpha Company's Vietnam War.