Living an Examined Life: Wisdom for the Second Half of the Journey (CD-Audio)
Before placing an order, please note:
You'll receive a confirmation email once your order is complete and ready for pickup.

If you have a membership, please make a note of this in the order comments and we'll apply your discount.

If you place a pre-order in the same order as currently available titles, an additional shipping fee will be added to your order.

Women & Children First is not responsible for lost or stolen packages.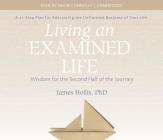 Description
---
How do you define "growing up?" Does it mean you achieve certain cultural benchmarks—a steady income, paying taxes, marriage and children? Or does it mean leaving behind the expectations of others and growing into the person you were meant to be? With the unabridged audio of Living an Examined Life, James Hollis offers an essential guidebook for anyone at a crossroads in life. Here this acclaimed author guides you through 21 areas for self-inquiry and growth—such as how to exorcise the ghosts of your past, when to choose meaning over happiness, how to construct a mature spirituality, and how to seize permission to be who you really are.
About the Author
---
James Hollis, PhD, is a Jungian analyst practicing in Washington, DC, and a bestselling author of 16 books, including What Matters Most and Living an Examined Life. He is a frequent public speaker on such subjects as the second half of life, aging, dreamwork, and the nature of personal growth. For more, visit jameshollis.net.

Kevin M. Connolly is a classically trained actor who has worked in theater, voice over, and TV/film for over twenty years. He holds a BA in Theater Arts from UIW in San Antonio, Tx, his MFA in Acting from UCLA's School of Theater Film and Television in Los Angeles, and has studied theater and acting in London, England and Dublin Ireland. He has lent his voice to various anime shows, video games, and audio books for children and adults.
Praise For…
---
"Living the Examined Life is a gift of rare gold: the accumulated logos of a life lived deeply and fully, generously shared and beautifully crafted. James Hollis bridges profound psychological insight and practical application. Joyously, this book dares us to go beyond the ordinary, acknowledgement of the terrors of the adventure before us, yet promising—like a loyal, loving, trusty Sherpa—to accompany us as we navigate the difficult terrain of authentic personal growth. This is the book to have as a fellow traveler—Socratic interrogator, wise friend, loving teacher, mindful mentor." —Martin Lloyd-Elliott, psychologist, psychotherapist, author

"This book represents the distillation of a lifetime's accumulated wisdom. The reader is sure to find helpful guidance for life's perplexities and warm companionship on the way." —Lionel Corbett, professor at Pacifica Graduate Institute

"Nobody writes about the challenges of creating a meaningful life with as much wisdom and warmth as James Hollis. This book is an extraordinary gift to all of us grappling with the 'second half of life'—free of all platitudes and false comforts, but full of sustenance, humor, and tools for navigating the journey." —Oliver Burkeman, columnist for the Guardian and author of The Antidote: Happiness for People Who Can't Stand Positive Thinking

"This is a book full of gems. Some are wise, some are deep, some are precious. Still others are even funny and others self-evident. Yet every one of them is necessary and belongs to the whole. As if James Hollis had scanned the inner landscape of us all, himself included, to produce a necklace of human truths from every part of the psyche, including the wondrous, the normal, and the dire. Reading him is to be reminded that it is possible to be fully human because, and not in spite of, our full part of light and shadow." —Jan Bauer, Jungian analyst and author of Impossible Love: Or Why the Heart Must Go Wrong