Star Wars: The Lightsaber Collection: Lightsabers from the Skywalker Saga, The Clone Wars, Star Wars Rebels and more (Star Wars gift, Lightsaber book) (Hardcover)
Before placing an order, please note:
You'll receive a confirmation email once your order is complete and ready for pickup.

If you have a membership, please make a note of this in the order comments and we'll apply your discount.

If you place a pre-order in the same order as currently available titles, an additional shipping fee will be added to your order.

Women & Children First is not responsible for lost or stolen packages.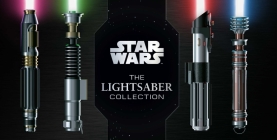 Description
---
"Wallace's strong grasp of the mythos of this universe will satisfy the die-hard Star Wars fan and serve as a fine introduction to those taking a first-time dive into one of pop culture's most important creations." –The Washington Post

Star Wars: The Lightsaber Collection is a comprehensive visual guide exploring the iconic and legendary lightsabers found within the Star Wars galaxy, featuring fan-favorite hilts from the Skywalker saga, Star Wars: The Clone Wars, Star Wars Rebels, comics, novels, and video games.

• Own the definitive lightsaber guide. This book features the hilts of characters such as Darth Vader, Darth Maul, Yoda, Obi-Wan Kenobi, Mace Windu, Luke Skywalker, Leia Organa, Kylo Ren, Rey, Ahsoka Tano, and more. Learn about the creation and history of lightsabers from all of Star Wars, including Darth Maul's double-bladed saber and the Darksaber.

• Discover never before seen art and illustrations. Featuring photo-realistic renders of lightsabers from Star Wars animation and comics, including Ezra Bridger's blaster-saber hybrid, the Grand Inquisitor's spinning blades, and a new lightsaber from The High Republic, this book is a must-have for Star Wars fans.

PRAISE FOR STAR WARS: THE LIGHTSABER COLLECTION

"This book is a bonanza for fans, cosplayers, and prop builders who always wanted to get an up close and personal look at lightsabers seen in the Star Wars saga." – SyFy Wire

"With the holidays approaching, this would make an excellent gift for any Star Wars fan in your home and extended family. It's one of the most exquisite books I've had the honor of reviewing" – WookieRadio

"Each and every page in this book is absolutely beautiful!" – Anakin and His Angel

"It's one of the most beautiful books I've had the pleasure of reviewing" – SWNN
About the Author
---
Daniel Wallace is the author or coauthor of more than fifty books, including The Jedi Path, Ghostbusters: The Ultimate Visual History, The World According to Spider-Man, Warcraft: Behind the Dark Portal, Star Wars: The Lightsaber Collection, and The New York Times best-selling Star Wars: The New Essential Guide to Characters. His specialty is exploring the underpinnings of popular fictional universes.

Lukasz Liszko is digital artist and photographer from Poland. He is a fan of fantasy and sci-fi literature and cinematography.

Ryan Valle is a freelance illustrator based in the Kansas City metro area. He specializes in Star Wars art with a digital 2D painting style while using both 3D and photographic reference to create his images. Since childhood, he has been a huge Star Wars fan, and he planned on becoming a professional fantasy/sci-fi artist early on. After graduating from the University of Central Missouri with a BFA in commercial art: illustration, he began working on Star Wars cards for Fantasy Flight Games. He has been doing regular Star Wars commissions ever since and has also contributed to other popular properties such as Game of Thrones and Lord of the Rings.