Break the Fall (Compact Disc)
Before placing an order, please note:
You'll receive a confirmation email once your order is complete and ready for pickup.

If you have a membership, please make a note of this in the order comments and we'll apply your discount.

If you place a pre-order in the same order as currently available titles, an additional shipping fee will be added to your order.

Women & Children First is not responsible for lost or stolen packages.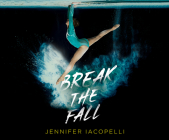 Description
---
Audrey Lee is going to the Olympics. A year ago, she could barely do a push up as she recovered from a spine surgery, one that could have paralyzed her. And now? She's made the United States' gymnastics team with her best friend, Emma, just like they've both dreamed about since they were kids. She's on top of the world. The pressure for perfection is higher than ever when horrifying news rips the team apart. Audrey is desperate to advocate for her teammate who has been hurt by the one person they trusted most--but not all the gymnasts are as supportive. With the team on the verge of collapse, the one bright spot in training is Leo, her new coach's ridiculously cute son. And while Audrey probably (okay, definitely) shouldn't date him until after the games, would it really be the end of the world? Balancing the tenuous relationship between her teammates with unparalleled expectations, Audrey doesn't need any more distractions. No matter what it takes, she's not going to let anyone bring them down. But with painful revelations, incredible odds, and the very real possibility of falling at every turn, will Audrey's determination be enough?