Une vie, un orphelin (Hardcover)
Before placing an order, please note:
You'll receive a confirmation email once your order is complete and ready for pickup.

If you have a membership, please make a note of this in the order comments and we'll apply your discount.

If you place a pre-order in the same order as currently available titles, an additional shipping fee will be added to your order.

Women & Children First is not responsible for lost or stolen packages.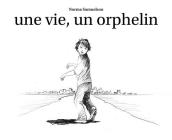 Description
---
"une vie, un orphelin" est un livre sans paroles de 66 pages. Les croquis l ches en noir et blanc raconter l'histoire d'un enfant orphelin abandonn dans une ville. Il rencontre de nombreuses situations difficiles, se retrouve une gare o une dame le voit et le sauve en l'emmenant dans un orphelinat o elle est la directrice. Il se rend compte que d'autres enfants sont dans la m me situation que lui et dans un moment, devient une partie d'une grande famille. Il va l' cole, souffre d'intimidation et de moments difficiles l'adolescence. Puis il entre l'universit , travaille dur et obtient son dipl me d'enseignant. Sa famille sont les orphelins, il y retourne et est re u avec une grande pancarte disant "Bienvenue la maison enseignant " L'histoire nous raconte les risques et les vuln rabilit's d'un enfant seul un jeune ge, la r silience d'un tre humain, et la victoire de surmonter les difficult's. L'histoire est bas e sur la vie r elle d'un orphelin au Mexique. Ce livre peut tre appr ci par n'importe quel groupe d' ge.Une partie de ce livre sera revers e l'orphelinat Casa de la Esperanza Tijuana, au Mexique.